Senior Class Makes Pledges to Underclassmen and Faculty
October 13, 2017
During the mini senior day of recollection, the class of 2018 made pledges to their younger AHN sisters and the faculty members to honor the mission of the Academy, so that they can leave a positive lasting legacy.
The 16 groups each had one of eight categories, and they brainstormed ideas for how the class can show proper sisterhood, sportsmanship, spirituality, community service, academics, integrity, behavior, and appropriate social media.
After the ideas were shared, the senior class asked for the pledges to be hung up, and Campus Ministry agreed with the proposal. The posters of the pledges are in the second floor hallway in between the iLab and collab lab for all to see; additionally, Olivia Traud ('18) will be sending out an official letter of all the promises the seniors are making to uphold to the high school students, teachers, and administrators.
The seniors worked hard in their groups to come up with pledges that they want to follow to make AHN a better community.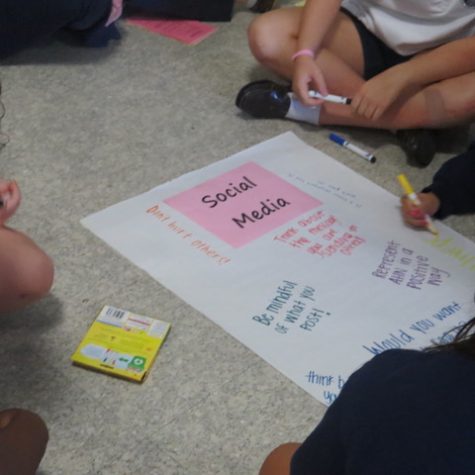 Mckenzie Holmes ('18) said, "My pledge was academics, and I felt it was really good because it makes us be honest with ourselves and do the right thing in the classroom."
Holmes enjoyed the activity and discussing how to carry out the promises in everyday life at school, and she wants others to know that the seniors truly mean what they say in these pledges.
"I hope the underclassmen and faculty know it's serious and not just something we are saying. We all took a lot of time thinking about it, and definitely did not just want it to be random stuff down on paper," said Holmes.
Social Studies teacher Beth Chase was delighted to hear about the pledges, and said, "I think it'll give us [the faculty] better insight to the class and what is important to them."
Chase is the Senior Class Moderator, and personally knows each member of the class.
She also said, "I do think they will hold up to the pledges. I think they are a very nice class. They are very considerate."
Another Senior, Catie Moffett ('18), had a wonderful experience with her group while doing this activity.
She said, "We did integrity. We were talking about how we should have integrity in school life and outside of school, like on social media and with other people."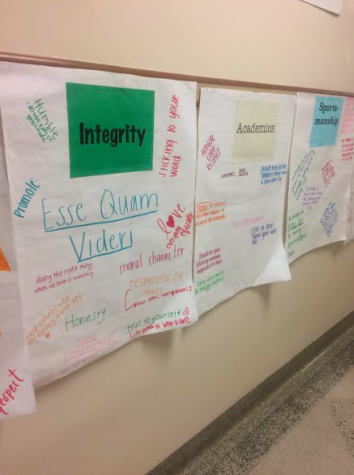 Moffett is also very happy that campus ministry hung them up for all to see.
Moffett said, "It's hard to keep your word on stuff like not gossiping, but having them up helps us be reminded to follow through."
Some of the underclassmen have already stopped to take a look and read over them.
Kathia Guzman ('20) said, "I used to think the seniors didn't care about the underclassmen because I thought they were only worried about going to college, but seeing that made me feel special."
The pledges also have made underclassmen feel recognized by their senior friends.
Maddie Boos ('20) said, "It's important to stay in touch when we grow up. I am close with some seniors, so the pledges make me feel like they will remember to stay in touch with me."
Below are some of the most popular pledges from each topic.
Sisterhood: Be supportive and encourage all our sisters

Sportsmanship: Attend lots of games, so our athletic sisters feel appreciated

Spirituality: Participate in our school masses fully

Community service: Help others find ways to participate in service events

Academics: Create a positive learning atmosphere

Integrity: Do the right thing even if no one is looking

Behavior: Be a good person to all

Social Media: Post only positive and appropriate pictures and comments
I love women who stand up for other women.
This world needs for #GirlLove.
This world needs more sisterhood! pic.twitter.com/6vc1X7UzNY

— Prateeka (@prateekakamath) October 13, 2017