Preparing For Poetry Out Loud 2018
January 17, 2018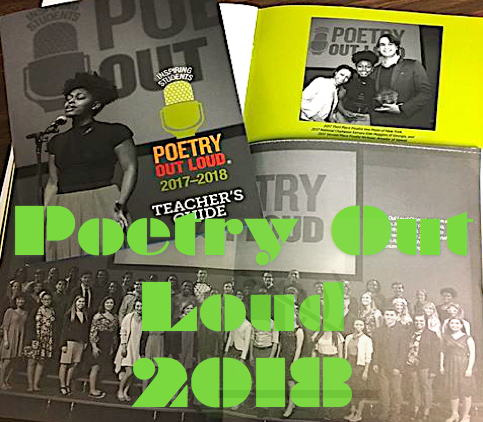 This year, Academy of The Holy Names will compete in Poetry Out Loud for the 9th consecutive year. The competition encourages students to practice their public speaking, gain confidence, and learn about literary history, poems, and poets.
#PoetryOutLoud #POL18https://t.co/4NQlpHr7iW pic.twitter.com/mCKUd5Bnef

— Teachers & Writers (@twc_org) November 9, 2017
High school students across Florida compete in this poetry contest at their schools for a chance to make it to the state competition. Round one will take place on Jan. 18, 2018.  Grade runoffs will take place following that, and one girl from each grade will be chosen to compete in the school finals. The winner will advance to the state wide competition.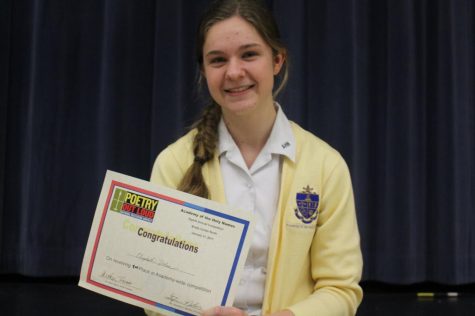 At AHN some girls love the competition, while other girls loathe it.
Seniors Abby Rodriguez and Jules Lavoy are amongst the girls who do in fact love Poetry Out Loud. Rodriguez competed in the school finals last year and said, "It is fun to have a different way to express yourself. I like the competition aspect of the event."
Lavoy said, "If you are not already in a performing arts class, it gives you the opportunity to perform and practice public speaking."
However, Senior Mia Leto is not enthralled by the program.
Leto said, "I honestly believe POL should be optional, for me it is a lot of work to memorize the poem and practice the presentation on top of all my other school work."
Interview with 2017 Poetry Out Loud Champion Samara Huggins: Finding the Poem That Fits https://t.co/n0IddIa2oH

— Carrie Liberty (@TeachLibs) November 30, 2017
As the class of 2021 take on the task of Poetry Out Loud for the first time, some seniors offered up some advice for easing the process:
Caitlin Shannon: "Don't skip class the day you are supposed to present. If possible, go first so that you can relax and enjoy listening to everyone else!"
Gabby Galvez: "I think it helps to practice the poem out loud instead of in your head."
Emily Venezia: "If you're having a hard time memorizing your poem, write it out over and over again. Number the lines and break it into pieces and memorize them one by one. Know what your poem is about because the more you can relate to it, the easier it will be to learn. Lastly don't get too discouraged or embarrassed; everyone is in the same position."
Abby Rodriguez: "I break up the lines of the poem so there is not too much too learn at once – my poem has 48 lines, there are four lines per stanza, so I practice three stanzas per day for four days."
Catherine Moffatt: "Try to present your poem first and get it done. You will feel much better afterwards."
Once a student reaches the state level, they are competing for a chance to advance to the National Championship. The National Champion receives a $20,000 award for the contest.