Mission Trip February Fundraisers
February 13, 2018
In just four short weeks (Mar. 10-18), the AHN missionaries will be traveling to their service sites during Mini Course Week. A couple of trips are conducting bake sales, while others are hosting drives to collect much needed items for the less fortunate that will soon be helped.
The inaugural Nicaragua mission trip is collecting gently used toys for children and Spanish books. The girls traveling to Nicaragua also have been given individual families that they will connect with in order to bring specific household items that are needed.
If you can donate, please talk to Grace Buckhorn ('19),  math teacher, Megan Dubee, assistant principal, Erin Krukar, or the other girls attending the trip.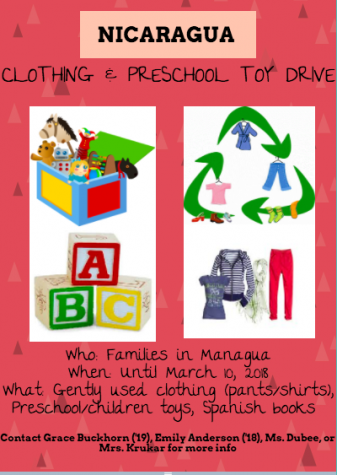 The 19th annual trip to the Dominican Republic is hosting an annual shoe and sock drive. They are also in need of big suitcases to carry the items. If you can donate any size or style of gently used close-toed shoes and new socks, you can leave them in the boxes in the lobby on the second floor outside of the iLab.  AHN missionaries started this drive 17 years ago, with the help of science teacher, Rebeca Zambrano.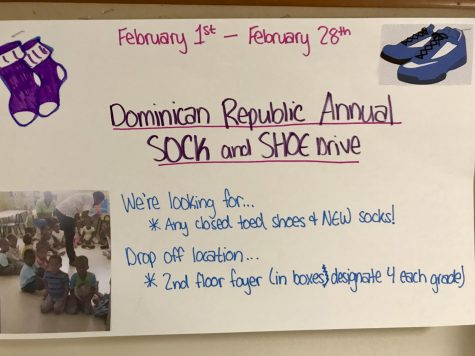 Macy McConnie ('18) will be attending the DR mission trip for the second year. She says, "The shoe drive just started this week so we would truly appreciate everyone going through their closets and asking their family, friends, and neighbors for any old shoes they don't want anymore. These kids cannot go to school without them and their parents can't get jobs without them, so please help us for the entire month of February."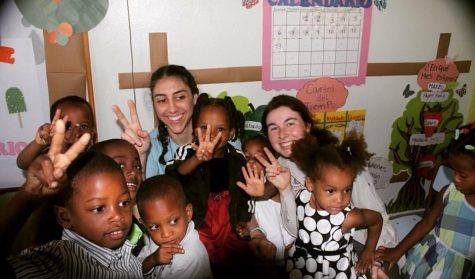 Alyssa LoSauro ('18) says, "I think it is important for everyone to contribute to the mission trip drives because unfortunately not everyone is blessed with everyday essentials like we are."