Poetry Out Loud 2018
February 1, 2018
The annual Poetry Out Loud competition has been an Academy tradition for nine years. Poetry Out Loud encourages students to learn and grow through poetry memorization and recitation. The program helps students master public speaking skills, build self-confidence, and learn about literary history and contemporary life. 
Poetry Out Loud begins in the classroom, then advances to the school-wide competition, and then to the  state competition, and finally to the National Finals in Washington, DC.
This year's Poetry Out Loud: National Recitation Contest State Competition returns to the Country Music Hall of Fame and Museum March10. The event is free and open to the public.https://t.co/eLUHwE3Gst

— TN Arts Commission (@TN_Arts) January 22, 2018
On Tues., Jan. 20, four Academy students: Adriana James-Rodil ('21), Mei Lamison ('20), Chanita Belcher ('19), and Nyla Jacobs ('18),  competed to move on to the state competition at The University of South Florida representing AHN.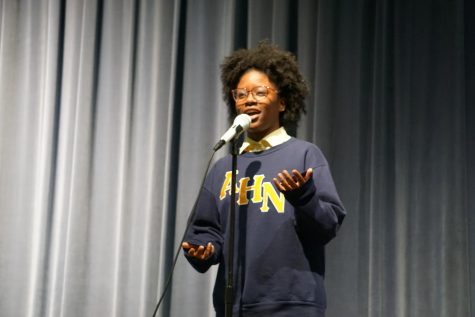 Academy students were to memorize and recite two poems each for all of the student body. Prior to the competition, ACHONA sat down to ask the contestants a few questions:
What poems did you choose to recite and why did you choose them?
James-Rodil: "My first one is "Do Not" by Stevie Smith and my second one is "Love's Philosophy" by Percy Bysshe Shelley. "Do Not" has a special meaning of don't judge someone based on appearance. The second one is about love and it makes me very happy."
Lamison: "So I'm doing "The Gaffe" by C.K. Williams and "The Obligation to Be Happy" by Linda Pastan. I started off with "The Gaffe." It really caught my attention because it was really long and the message spoke to me. This really enhanced my understanding of the poem."
Belcher: "The first one is "Passing" by Tori Derricotte and the second one is "Broken Promises" by David Kirby. I felt like I really related to the first poem because it was based on race. The second one, I really enjoyed the style of writing."
Jacobs: "I'm doing "Testimonial" by Rita Dove and "Self-Help" by Michael Ryan. I chose "Testimonial" because I really liked the way it rhymed. "Self-Help" is deeper and relates to our world today."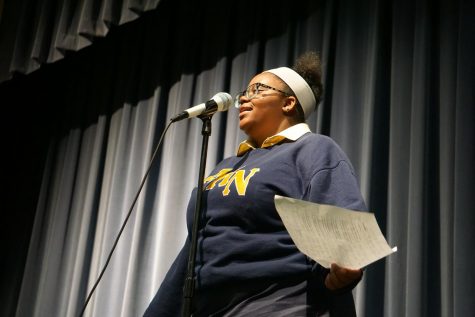 Do you have any experience with poetry?
James-Rodil: "No. This is my first time doing poetry."
Lamison: "No. None at all, except for school."
Belcher: "Well, I was in Poetry Out Loud my freshman year and I love writing poetry. I've actually been writing for a few years now."
Jacobs: "I like writing funny poetry. I also won out of my English class last year."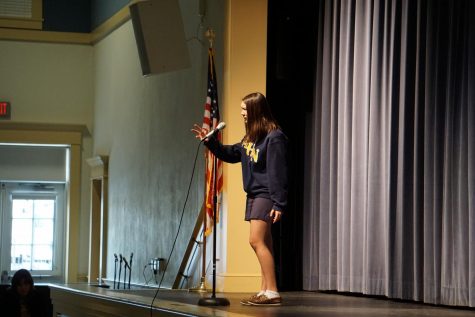 How do you think poetry most affects you?
James-Rodil: "I like poetry a lot, it's easy for me to memorize. It tells an important story."
Lamison: "I love it because it gives people a voice, an expression."
Belcher: "Poetry is like music. You get to speak from the heart and many people can relate to it. Not everyone will always have the same interpretation of it."
Jacobs: "I like fact that it tells a hidden story. Everyone relates to it differently."
When the afternoon of poetry recitation concluded, Lamison placed first, and will move on to the state level competition, representing AHN.