Photo Credit: Lauren Pieper/Achona Online
TLC Goes to Annual Relay for Life Event
April 23, 2018
On Friday, April 20, 2018, the Teen Leadership Council (TLC)  club showed their support for their biggest philanthropic event at Robinson High School's Relay For Life. For many years, the club has attended in order to raise money for the cause. Each club member must join the TLC Relay Team and raise $100 minimum. This is a mandatory event for the club, and is planned for the entire year. Not only is it a way to support a good cause, but also is one of the ways the club bonds.
This year, the co-captains for TLC's team are Isabella Leandri ('19) and Katherine Rodriguez ('19). They have been attending meetings concerning the event and coordinating everything for their teammates.
Rodriguez has participated in Relay for Life before, but after becoming a captain, she sees the event on a much bigger spectrum.
She said, "Being able to work and help with an event whose cause is really important to me since cancer is something that I know most people have been affected by in one way or another. Being able to organize our club into being a part of this important cause was very rewarding. Also, working with my co-captain, Isabella, because we were given a big task but worked really well together and got to lead our club, to make the event as good as possible. Seeing how many people were at this event, including some cancer survivors, made me realize that this event is going to change and save lives."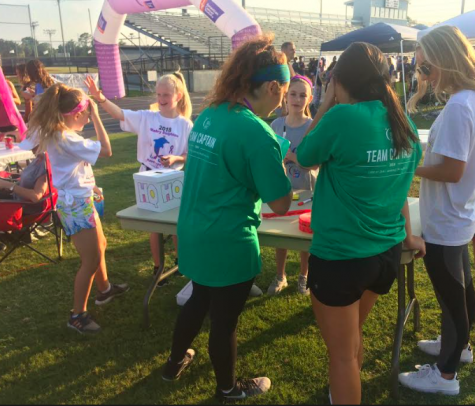 The theme this year was "There's an app for that", and the TLC girls made their booth based off the HQ Trivia game. Participants were asked a series of five multiple choice questions, and for every trivia question answered correctly, a raffle ticket for Air Pods was given.
"The best part of Relay for me was getting to be our booth's HQ host and quizzing all of the contestants in our HQ game," said Leandri.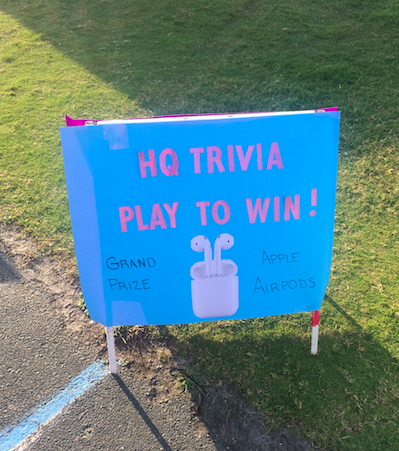 In addition to the HQ Trivia game, the TLC girls raised money by selling freshly spun cotton candy for $1.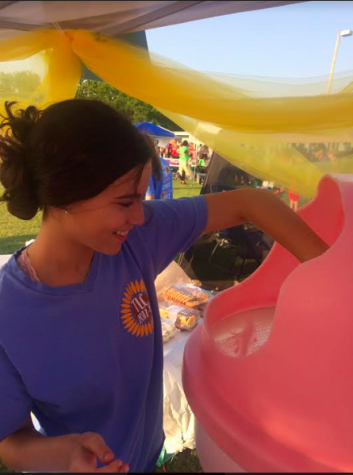 Not only did they raise money at their booth, but also donated at other teams' booths. There were so many different activities to choose from, including; buying a plate of whipped cream so you could "pie" someone, the classic carnival game of throwing a ping pong ball into a cup to win a gold fish, and buying all sorts of sweet treats. The night was full of fun and success in raising money for a good cause.
Leandri said, " I truly just love getting to participate in Relay For Life, so being a team captain made it 100 times better. Getting to plan the event for TLC was a lot of hard work but it totally payed off and I had the best time working our booth and getting to raise money for the American Cancer Society. My overall experience was so amazing. I love everything Relay For Life stands for and I love that as a club, TLC puts a ton of effort into this event and supports this amazing cause."
The evening is not just fun and games, it also honors cancer survivors and those who have lost their lives to this disease. The beginning of the night kicked off at 6:00 p.m. with a survivor walk. All the present cancer survivors walk the track, and everyone is cheering and clapping for them as they parade around. It is one of the many emotional and joyful moments of the evening. The other more somber times is the luminary walk where everyone walks around the track in silence, and the participants remember those they have lost to cancer.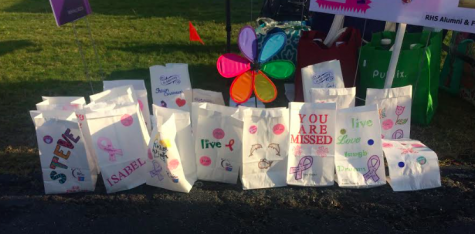 For seniors, this was their last Relay after four years of participating; however, all the underclassmen are taking a break from the Relay fundraising until next year when they will start it up again.
Lillian Tracy ('20) said, "Just being able to help people who needed help in a fun way was the best part. I am excited for the next Relay because it was a lot of fun this year, and I know we are going to impact a lot of families next year too."
Without the help of our 3.5 million participants worldwide, our work would not be possible. Thank you for giving up your time and energy to fight cancer. #NationalVolunteerWeek pic.twitter.com/attElWRoYv

— RelayForLife (@RelayForLife) April 16, 2018
SaveSave