(Photo Credit: Isabella Thorpe/Achona Online/Piktochart)
Millennials Named "The Burnout Generation"… What Does this Say About Gen Z?
January 15, 2019
Need a refresher on current events that affect our nation? Refresh President Donald Trump's twitter page. Need a new shirt? Amazon Prime has your back. Are they still together? Check both of their Instagram accounts.
Increased accessibility due to the rise in technology translates into less effort needed, which does not necessarily allude to anything negative. However, teenagers and adults of the digital age are inevitably plagued by the feeling that they are entitled-whether it to be to know everything that is going on in an instant or to having what they want upon their demand.
Frankly, this quality of millennials, the age group born between 1981 and 1996, has become quite apparent to those who have come before them, thus rightfully earning them the name for their cohort: the Burnout generation. Degrading? Possibly. Absolutely absurd? Probably not.
The gap in ages prompts the question: how did children who grew up with the Internet get grouped together with those who did not access it until they were teenagers? The seemingly wide generational demographic group of millennials have experienced several major cultural and technological shifts that they have been old enough to recall and understand, such as the rise of cell phones, the Internet boom, the arisen concerns over security post-September 11th, and The Great Recession.
"[Burnout is] not a temporary affliction: It's the millennial condition. It's our base temperature. It's our background music. It's the way things are. It's our lives." @annehelen wrote the definitive piece on millennials: We're all just so damn tired. https://t.co/fzi2XaFQs5

— Amanda Litman (@amandalitman) January 5, 2019
Due to the technology boom and the start of the digital age that they first-handedly underwent as they were still maturing, millennials have more likely of a tendency to be clouded by their judgment that they must stay on top of everything as the world around them changes rapidly. Therefore, the access to social media has provoked millennials to devlop behaviors from every extreme, including "emotional underachievers" but "overachievers" elsewhere, such as in their careers.
"I see it more applicable in the parenting styles of my friends because they feel as if everything they do for their kid has to be perfect… they use Pinterest, for example, to plan the best birthday party for their kids… which is noticeable from my other friends who are older," says AP BC Calculus teacher Megan Dubee of her generation's newest label, "I' ve even seen this style contribute to learning because you are overworking yourself to overachieve all of the time."
So this is the way the world ends. Not with a bang but with a bunch of millennials who don't know how to mail things. https://t.co/VzY1GROtpq

— Matt Fuller (@MEPFuller) October 30, 2018
My generation, Generation Z, is ambitious, as proven by our efforts to organize national events such as March for Our Lives due to our fascination with our own role model, Malala Yousafzai, and our mastery of using various social media platforms. We grow up with the Aerie Real beauty campaign and legal same-sex marriage, knowing that one authentic voice has the power to ignite a fire. However, this does lead to members of my cohort to develop intense fears of missing out and instincts that they are not living up to the standard the rest of our generation is held to.
"Social media stresses me out, so I will not even go on Snapchat anymore to limit comparisons I make with everyone else," says Katia Huddleston ('22).
A great disparity of the mentality of both peer groups is how they view the value of their work and how that contributes to the value of themselves. Generation Z grows up with the belief that all work should be stemming from genuine passion, and they are more apt to believe that they can achieve these wishes for the future. An astonishing 72% of Gen Z high school students aspire to be self-starters after college in corporate America by taking on roles as entrepreneurs rather than traditional employers.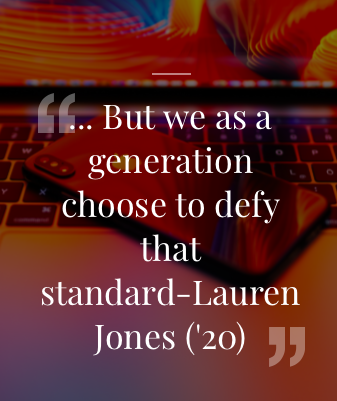 Current teachers and mentors are counted in the Burnout generation, so what does this mean for my emerging group? Although only time can tell, present-day teenagers and young adults are living during a time when bold voices and self-sufficiency are embraced; therefore, could our generation be the pivotal generation?
"I wrote a poem about this the other day," Junior Lauren Jones says when asked about being raised as a by perfectionists and becoming one herself. In the poem, she writes, "New has become synonymous with fail, but we as a generation choose to defy that standard."