Visiting Artist Kathryn Reina Academy Alumni
February 11, 2019
Academy Alumni and creative designer of web and interface design Kathryn Reina ('06) spoke to students, faculty, and families on Thursday, February 7, 2019, in the Bailey Center for the Arts during the Visiting Artist reception from 6:00 p.m. to 8:00 p.m. She is the 15th annual visiting artist to speak at Academy.
Reina graduated from the Academy in 2006 and later attended the College of Charleston, majoring in arts management with a concentration in historic preservation and community planning. After graduation, she focused her career into front end development, graphics, and UI/UX design. Currently, Reina resides in Los Angeles, California, where she partners with technology startups, celebrities, and high-end luxury real-estate clientele.
Reina has been a front end developer and designer from 2011 to present. She currently works as the creative director of Spared as well as the lead developer at Wicked+ Agency.
More recently, Reina worked with Jesuit alum Ryan Lockwood to launch spared.com. Spared is an app which saves cents to help with managing student loan debt.
Summer Wolf ('19) says, "I was looking at Spared, and I was really interested because I took AP Computer Science last year. One of our assignments was to create an app and present it to a board of people to 'buy' our app. I understand how much effort and time it takes to create and code, and I have so much respect that she created an app with so much background in it. The concept is really interesting that it is made to help students pay back their student loans slowly."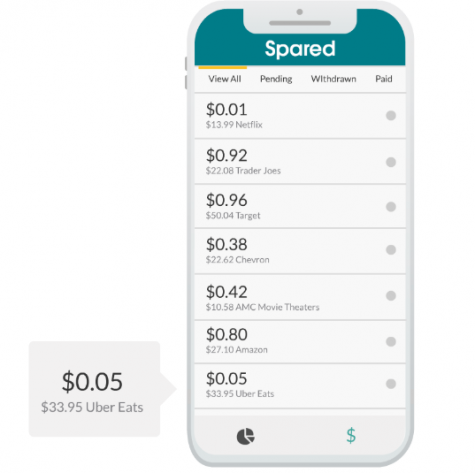 Reina has also worked with local Tampa stores. For example, Reina designed the Oxford Exchange online presence. Oxford Exchange is a vintage restaurant and store which is very popular among Academy students. While working on this project, Reina was able to create a matchbox to sell in the store. This matchbook is still sold today.
Earlier this week, Reina worked with AHN's Intermediate 2D Design and AP Computer Science classes on a collaborative project designing an app interface. The final designs were showcased at the reception earlier in the evening on Thursday.
Guests enjoyed a presentation by Kathryn Reina ('06) and a questionnaire part of the night. Students and teachers alike were asking questions such as, "How did you realize you wanted to be a web designer and app creator?"
Before the presentation on the Lynch Family Stage, guests were able to enjoy drinks and food spread out on tables in the lobby of the Bailey Center for the Arts. Guests could also sign the guest book present on a table.
During her presentation Reina says, "I was able to accomplish so much because I love doing what I am doing."