(Photo Credit:Sam Lleras/Used with Permission)
AHN Class of 2019 Attends Senior Retreat
March 5, 2019
The annual AHN Senior Retreat began on February 28 and ended on March 1. The overnight retreat was held at Dayspring Retreat Center which is located in Ellenton, Florida. This location is different from past years, as the retreat had previously been held at the Bethany Center. After the 45 minute bus ride, students dropped off their bags at their dorms and the bonding began.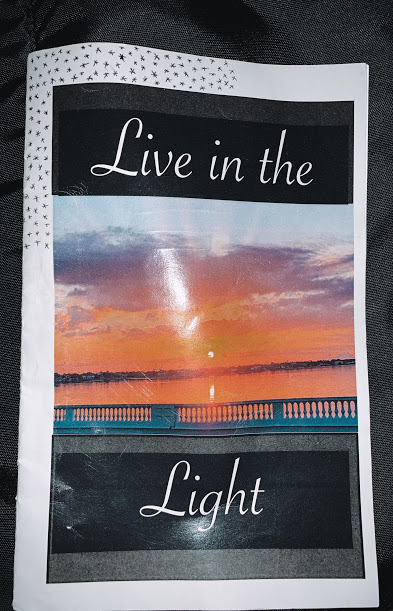 The first session of the retreat was led by math teacher, Megan Dubee. Dubee introduced the retreat's theme of "light" and spoke about how she has embraced the light in her life. Many students were touched by Dubee's talk, many girls brushed off tears as they got to see into Dubee's life.
Senior Brooke Breeze says, "I think it's safe to say that Ms.Dubee's speech made an impact on all of us and put into perspective how important this retreat is. It was touching in so many ways and made me reflect on my own experiences. I will never forget the moment that she called all of us her children because it made me realize just how lucky I am to go to school with such amazing peers and teachers."
After Dubee spoke, students were given the chance to have individual time to reflect on the lecture. They then broke off into small groups, where they discussed what they each took from the talk.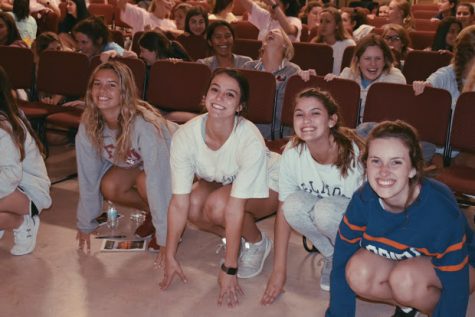 During the first small group meeting, each student received a candle holder which they were able to decorate freely as a representation of themselves. This candle symbolized how God is the light in everyone's life, and also how each student can be the light to others.
The girls then came together to start session two, where guest speaker Leah Darrow spoke on her faith and life experiences. Darrow used to model and often made poor life choices, eventually she realized that what she needed in life was God. She stopped modeling and focused on her faith, she now lives a religious life with her husband and children, and travels to speak about her life and faith. Although Darrow was battling the flu, she spoke with the students for over an hour and a half, and was welcoming to any questions they had.
"I thought it was cool to hear about someone who didn't live the perfect life, and was someone that we could actually relate to. Leah also described her relationship with God in a way that I feel I could have when I am older. I liked hearing about Leah, and it was really great of her that she stayed even when she wasn't feeling well," says Fallon Flaharty ('19).
After a food break, junior/senior personal counselor Emily Pantelis explained to the seniors how they are lights to their fellow peers. Students then broke into small groups where they went one-by-one, telling each person how they have been a light in their life. This exercise was emotional and also extremely bonding, as students realized just how close they were to all their classmates, not just their best friends.
The session concluded with students receiving a gift from their loved ones. After this seniors joined around a bonfire to sing songs, eat smores, and spend time with one another. It was then off to bed, to get ready for the final day of the retreat.
Day two began with a few songs to get everyone awake. Following this, seniors participated in an activity where each student explained how the class had been a light to them. After a student shared, they held on to a piece of yarn and threw the other end to a fellow student. Once everyone spoke it was a chain of yarn, showing that everyone in the senior class was connected. This activity took around two hours.
The retreat ended with an outdoor mass. Students then said goodbye to the retreat center, and headed back to South Tampa. The retreat was a time for the senior class to appreciate all the members of the class, and it is also one of the last times all 101 seniors will be together.
Myah Rhines ('19) says, "It [the retreat] was one of the best experiences I've had so far. I really felt I connected with my classmates as a whole and strengthened my relationship with God."