AHN Introduces the Rose Project
September 19, 2019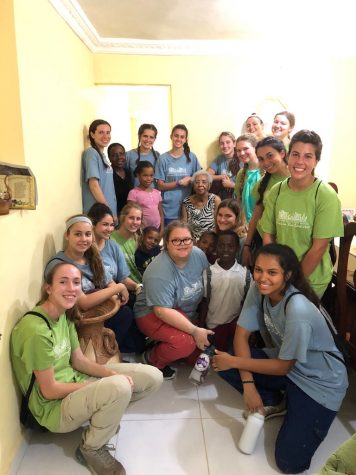 On Monday, Sept. 16, Campus Ministry held the annual mission trip convocation in the Brady Center for the introduction of the Rose Project. The Rose Project, formerly known as Mini-Course week, is a school-wide service week where students will have the opportunity to go on mission trips and do community service to fulfill the mission of the Sisters of the Holy Names of Jesus and Mary at AHN.
"Being that our school is founded by the SNJM Sisters, this is exactly what they would have wanted from us. Switching this week to a mission week has made a big impact on enlightening their curriculum that they've taught, remembering who they are and why they came here from Key West," said guidance counselor, Emily Pantelis. 
Rose Week, October 7 through 11, celebrates Blessed Marie Rose Durocher, the foundress of the Sisters of the Holy Names of Jesus and Mary. Because service and justice are at the core of the Holy Names identity, "The Rose Project is  an integral part of the school's mission," said campus ministry director Katie Holland. One change for students with the introduction of Rose Project is the opportunity for every student to have a mission trip experience.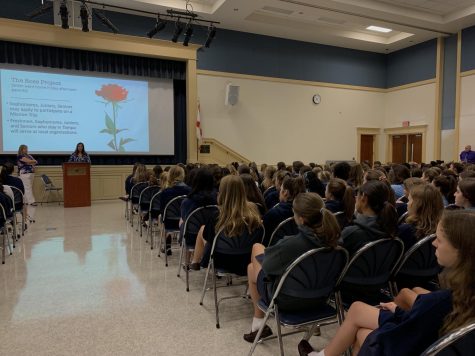 "I think having mission trips during the Rose Project is really great because most people won't go on them outside of school. It's better to have everyone do service, including the people who stay here," said Danielle Finster ('20).
The Rose Project will be giving every student the opportunity to experience a mission trip through its introduction of community service groups for the students who stay in Tampa during the week.
"I really like the idea of community service here and I'm excited. I've done retreats and mission trips before so I think its a great opportunity to do service," said Sara O'Connor ('23).
Along with these community service groups, sophomores, juniors, and seniors, will still have the opportunity to apply for a mission trip to nine different locations including new trips in Haiti and Orlando. 
AP Government and Politics students will be able to work on their service activity, the Cast Fire project,  during this week as a part of the Rose Project. Activities such as the Disney trip and college tours will still be an option for those who stay in Tampa because of the structure of the Rose Project. Community service groups will be serving from Monday March 2 to Thursday March 5, which leaves students with extra days to plan their trips accordingly.
"I think I'm definitely more inclined to apply for a mission trip because you'll be doing service whether you decide to stay here or go, and I'd rather go out to a place and serve there," said Christiana Carotenuto ('22).

Loading ...