New Bible Study Group at AHN
September 26, 2019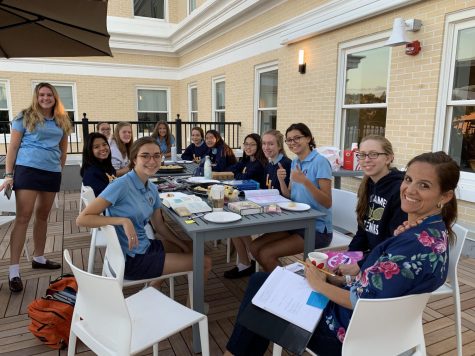 On the morning of Sep. 25, students Sofia Tweed ('20) and Emily Nash ('20) held a Bible Study group on the 3rd floor back deck of the Bayshore Building. Tweed and Nash hosted the event with the help of campus ministry director, Katie Holland, in hopes of revamping this activity for all the students of AHN.
"Our main goal was to get students more interested in reading God's Word because I feel that nowadays there's a lack of importance on reading the Bible. I feel that this is a result of people being so overwhelmed when they first open up the Bible and not knowing where to begin. Because of this, we want to help students learn the importance of reading it and looking at the scripture through a different lens," said Sofia Tweed ('20).
AHN formerly held a Bible study group through alumna Emma Boback ('18) who held meetings throughout the 2017-2018 school year. The following year, there was no official Bible study group, which led seniors Emily Nash and Sofia Tweed to re-introduce the group this school year.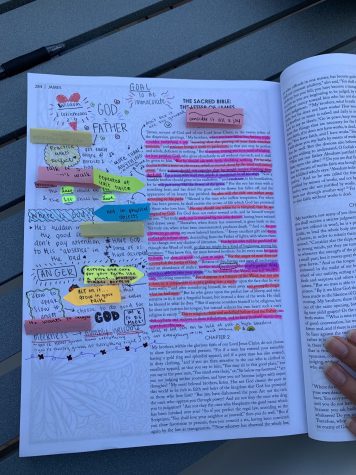 "I heard about the bible study group from the morning announcements and I think it's a good way for us to get deeper in our faith and bond with our sisters through a student-led activity," said Abby Echenique ('21).
Nash and Tweed have taken the initiative from the religious club, Crossfit, to find new ways to incorporate religious activities into student life.
"I'm going to the Bible Study group on Wednesday and it's open for everyone who's interested in going. I'm part of the club, Crossfit, and I go to adoration outside of school at my church," said Anna Anderson ('23).
Tweed and Nash began the group study on Wednesday morning with the reading of the first chapter the Letter to James in the Catholic Bible. They chose this scripture because of the theme of suffering which they used as a topic for discussion in the group. The students in the group shared their ideas, feelings, and analysis after each part of the passage they read. 
"After going Wednesday morning, I realized I really needed this experience and it was great to connect with my Academy sisters spiritually," said Caylie McDonald ('21).
The group will be meeting on alternating Wednesday mornings at 7:30 AM on the back deck of the 3rd floor. The next meeting will be held on October 9, 2019.