Academy Students Attend Annual March for Life Trip in Washington, D.C.
February 13, 2020
    On Friday, January 24, 2020 31 girls and four teachers from the Academy of the Holy Names went to the March for Life in Washington, D.C. The two day trip included attending the Vigil for Life Mass with over 10,000 pilgrims from all over the country, visiting the March for Life Expo filled with organizations and vendors who promote the sanctity of life, and attending the March for Life that starts on the National Mall and ends at the Supreme Court Building.  "My experience at the March for Life was unique and heartwarming. It was amazing to see so many people band together peacefully and be filled with happiness," said Miranda Gonzales ('20).
    The March was full of people from different cultures and beliefs across the United States. Estimated to be the largest number of attendees, for the first time in the March's history, as well as the first time a sitting president has attended the march, the crowd stood together to protect one thing: the right to human life. 
"I had never been to the March and did not know what to expect.  It was truly amazing to see the large amount of young people who were passionate about the same cause," said Olivia Martinez, high school counselor.
      The girls learned many things in the four months of spiritual preparations leading up to the trip. For example, one month was focused on trust, and they learned to trust each other in many different ways. Kathleen Thomas ('21), said, "Coming from a Presbyterian background rather than a Catholic background, I found it really interesting to attend the spiritual preparations because it felt more familiar than I expected. The topics we reflected on were helpful in several different aspects of my life."
Another was about empathy, and how to respond respectfully when faced with opposition. "During the March, I learned how to respect others' opinions while still staying true to my own beliefs. Even though I may not always have the power to change their opinions, I can at least express myself and do what is right. Just by participating in the March was a huge step for me. We must also keep in mind that being active in the pro-life community is also a big component in expressing ourselves. I can do this by supporting the multiple pro-life organizations. By being an active supporter of the pro-life community and having empathy and praying for those that are pro-choice, I am being respectful of the opinions of others," said Sarah Aschenbrenner ('23).
Through an ultrasound, an unborn baby's heartbeat can be detected at 6 weeks of pregnancy. In many states, abortions are legal up to 20 weeks of pregnancy or longer. "Growing up in a Catholic family with both parents practicing as pro-life OB/GYNs, protecting life has always been something super important for me. This March allowed me to individually choose to go and support life from the moment of conception to natural death. The overwhelming presence of thousands of people coming together and even the US President was so amazing. It was truly a unique experience in which our generation of pro-lifers came together to truly make a difference and to honor the innocent babies who have been aborted," said Lauren Lamoutte ('20).
     On the first day, the girls attended the Vigil for Life Mass at the Basilica of the National Shrine of the Immaculate Conception. Over 10,000 people were in attendance, Catholics and non-Catholics alike. There were 67 deacons, 303 priests, 39 bishops, and three cardinals celebrating Mass. There were many other priests in the church who were not part of the celebration of the Mass and sat in the crowd.
"I really enjoyed the Basilica Vigil Mass. I've never been to anything like that before, and it was probably one of the best parts of the entire trip. It was unlike any Mass I have ever been to before, and it was even better because everyone was there for the same purpose, to support pro-life," said Abby Echenique ('21).
Juniors Clare Grammig and Grace Cronen had the opportunity to bring up the gifts at Mass. "I have loved attending the March for Life with Academy students these past two years. One of my favorite parts is participating in the Vigil for Life at the National Shrine Basilica on the Campus of Catholic University.  When we arrived this year, we ran into Ushers for the mass that we had met last year. They were so nice, to allow us to sit in a reserved section of the church, and even invited Claire Grammig and Grace Cronen to bring up the gifts during the mass. It was amazing to be a part of such a beautiful liturgy!" said Katie Holland, the AHN Campus Minister. The girls had the opportunity to speak to Monsignor Vito Buonanno, Associate Rector and Director of Pilgrimages of the Basilica of the National Shrine of the Immaculate Conception, before Mass, a very charismatic man who they were very happy to meet. He shared stories with them and encouraged them in their endeavor. "I chose to go to the March for Life this year because I felt I needed to stand up for those who can't. I have been pro-life as long as I can remember, and the March enhances my beliefs even more so. This year at Mass, my friend Clare Grammig and I were chosen to bring up the gifts at the Vigil for Life. It was an amazing experience, and Msgr. Vito was so happy we did. Everyone you ran into there was so kind and helpful and understanding. Not a single person at the March was there for themselves, they were there for those who can't be there for themselves as they were taken from the world in the most horrific ways. My fellow pilgrims and I stood up proudly for the pro-life cause and will continue to until change is made," said Grace Cronen ('21).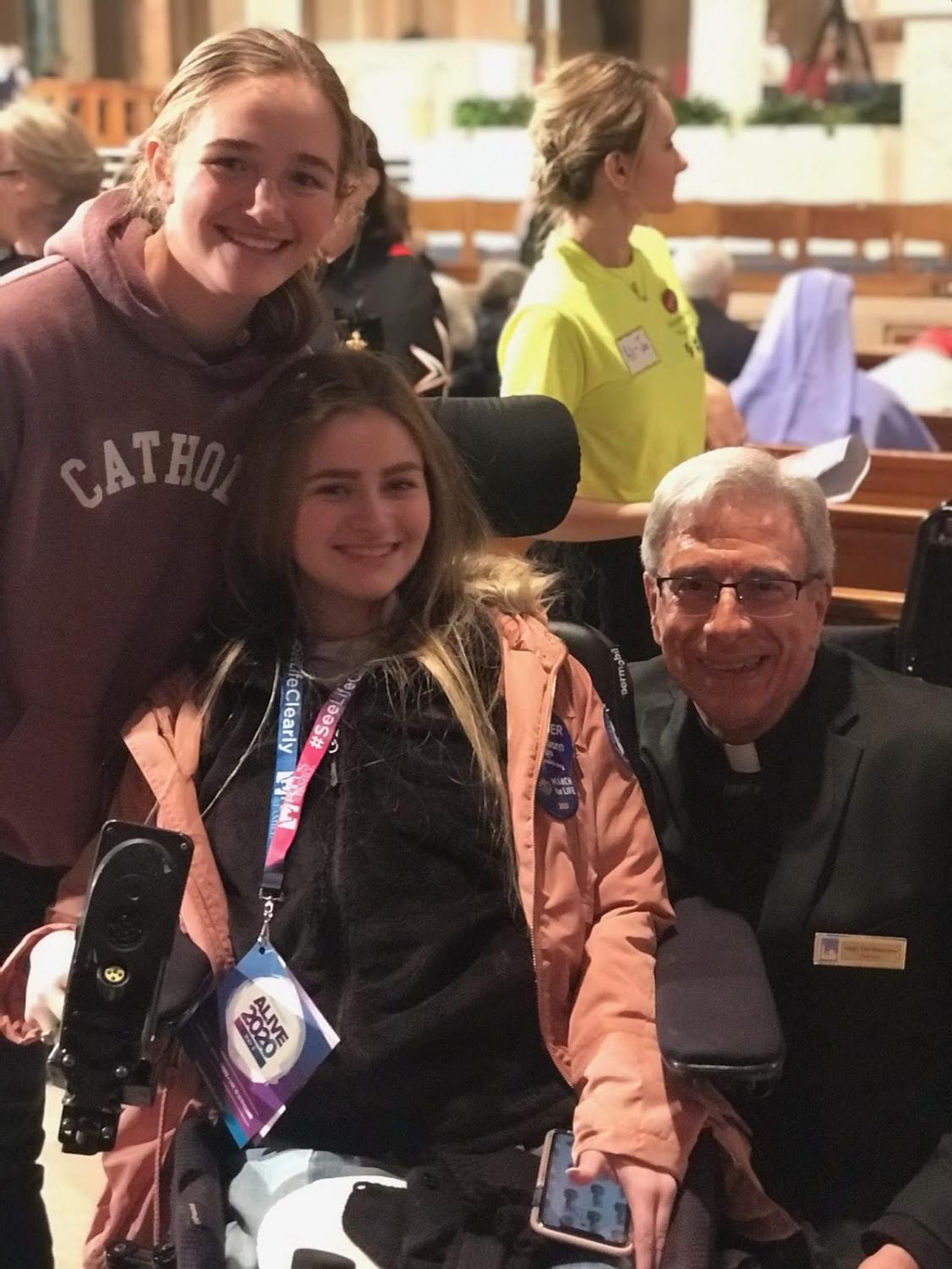 Because the girls had the opportunity to stay in the Renaissance Hotel, the official hotel of the March for Life, they were able to go to the March for Life Expo both days, where they met different pro-life people like Abby Johnson from "Unplanned", received many free signs and stickers, and had the opportunity to buy good pro-life merchandise.
"The Expo for the March for Life was pretty impressive for me, because at first before going in to see the Expo for myself, I thought it was just a way to get the posters for the March. But then I came to this one giant room just filled to the max with organizations and associations for life. I then found myself at the back of the room which lead to another area filled with more organizations all supporting the same pro-life cause that I never knew existed. It was incredible seeing how many people were and still are willing to help and support the pro-life community and spread the message out to others," said Kaitlin McHugh ('23).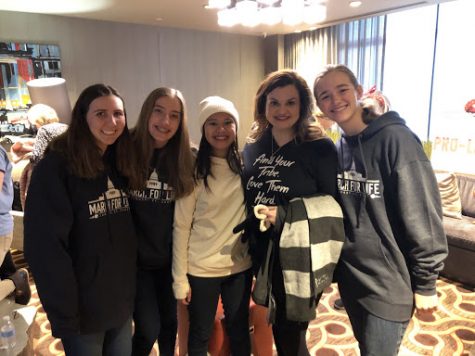 The second day was the actual March for Life on January 24, and the girls had a wonderful experience. "If I could use only one word to describe the March for Life, I would say powerful. Each year I cannot imagine it getting any better. However, every year I find myself marveling that, in fact, it does. It is such a special event that radiates positivity and joy. The energy of the March is sensational. The crowds of young people, youth groups, schools, and adults who come from every part of the United States to attend, in defense of the right to life, truly inspires me. What really made this year so impactful for me was how much hope was present. When President Donald Trump spoke to the crowd, it reminded us that we are not alone in this fight to eradicate abortion. It was clear that we all were there because we value every stage of life and care about all of the innocent souls that have been lost. It does not get much news coverage or publicity, but I have never attended something more important in my life. This year, Grace Cronen and I were privileged to carry up the gifts at the Vigil for Life Mass. This was such an amazing honor that will always hold a special place in our hearts," said Clare Grammig ('21). 
      While the girls were at the March, Katie Holland had them start a chant, "We love babies yes we do! We love babies, how about you!" A group from West Virginia heard and started shouting it back. The group from AHN kept it up with them for a few whole minutes. After the March, Junior Clare Grammig found a comment on an Instagram post: "If anyone was part of an all-girls school group from Florida, wearing white hats, let me know, my friend (Peter) in the flannel, who was chanting, "WE LOVE BABIES," was really bummed that he never got a selfie."
He later added Peter's phone number for all of the girls who commented that it was them, and a few got in touch with him.
"The March for Life was an experience I will never forget. It was so supportive, loving and created a sense of community that is hard for me to explain. Our students were able to interact through love with thousands of other people. At one point, our girls initiated a cheer saying loudly, 'We love babies, yes we do, we love babies, how about you?' and then out of nowhere large groups of people started responding with the same cheer. This was a minor interaction, but interactions like this continued to occur throughout the day. Everyone was truly there to advocate for the unborn and to see that we weren't alone was powerful," said Emily Pantelis,  Junior and Senior counselor.
Blessed Marie Rose always accompanies AHN on trips. While at the March, the girls wanted to have her lead the way for the 31 of them. They had a stick but nothing to hold her to it. Then, junior Abigail Weaver found a bandaid. "Every other school has a sign, or mascot to lead their group and we didn't. So, I asked Mrs. Holland for our little BMR statue and went and got a stick and Ms. Martinez and I found bandaids to stick them together. We weren't sure it would work, but it lasted the entire March!" said Abigail Weaver ('21).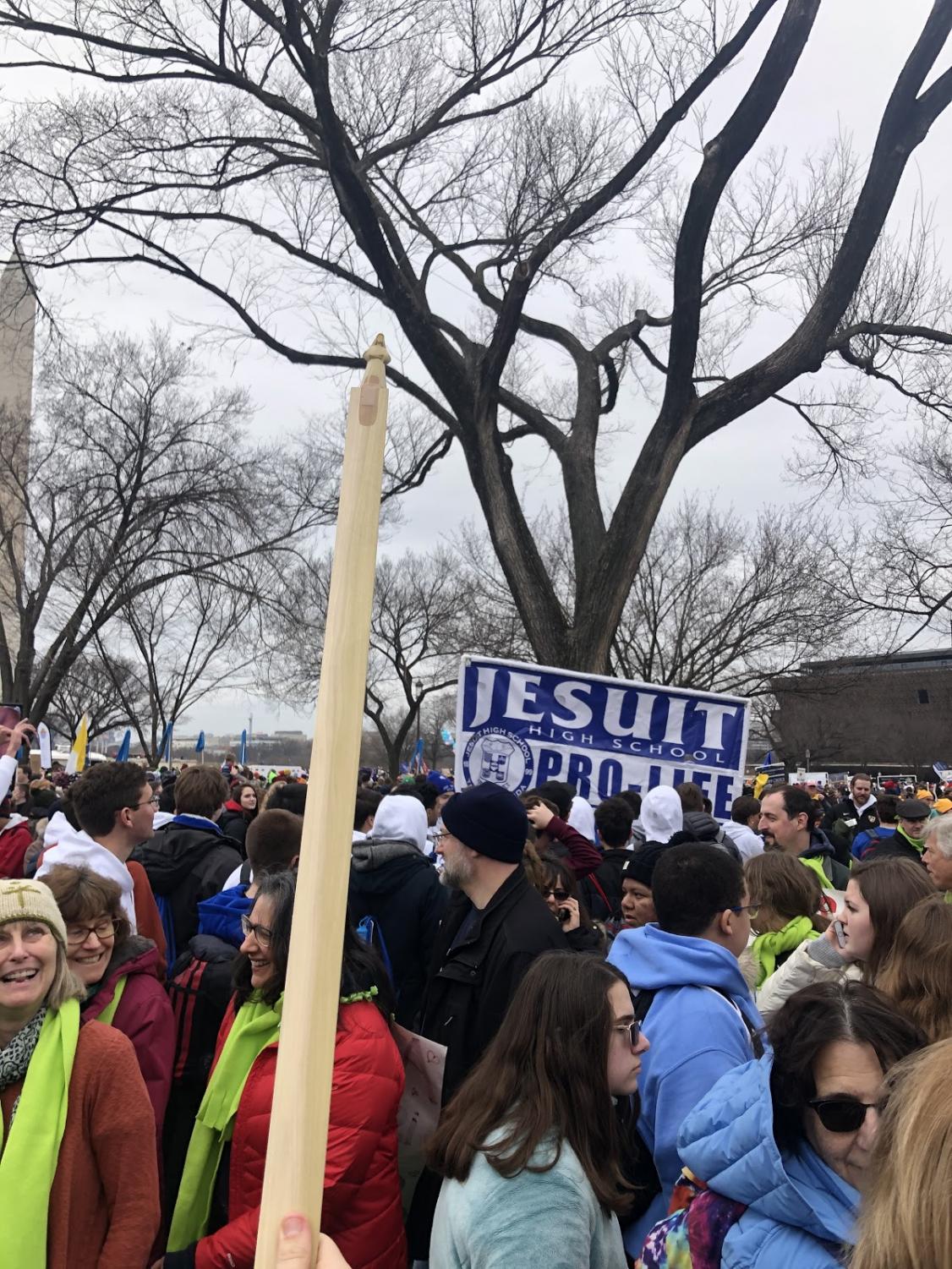 Archbishop Naumann of Kansas City, who gave the homily at the Mass for the Vigil for Life on the first day, spoke of our Catholic commitment to support women through their entire experience as  mothers, not just at the time of birth. "Our goal is not only to identify gaps or areas with insufficient resources, but then to take concrete steps to expand the help available to mothers, not only during the pregnancy but for months and even years after the child's birth. We want to do everything possible to help both mother and child, not only survive but thrive," said Archbishop Naumann during his homily. One way we can do that is to support different local organizations help women who find themselves pregnant and in need. Foundations of Life is an organization that gives free ultrasounds and supports pregnant women throughout their motherhood—during her pregnancy and after. 
https://www.instagram.com/p/By25Ee7FkVS/
According to Lillana Gimenez who works at the Foundations of Life Pregnancy Center, "It is so very important for our high school young men and women to be active in the Pro-Life Movement. I honestly believe they are the generation that will restore respect for the sanctity of life: from conception to natural death. With all the medical advances in neonatal care and  ultrasound imaging, no one can deny that when a woman is pregnant, she is carrying an offspring, a baby! Not a clump of cells or P.O.C as they call him or her in the abortion business (POC stands for "product of conception"). 
They also help the women who want to have someone adopt her baby by finding loving families for them in either an open or closed adoption, whichever the mother chooses. They also counsel women who have had abortions through a program called, Project Rachel. Project Rachel is a confidential, non-judgemental path to healing after an abortion. It is for men, women, and couples who have been impacted by an abortion decision.
"Pregnancy centers stand in the gap between women choosing life or death for their pre born children, offering hope, options and help. Loving them and meeting them where they are: alone and scared enough to accept that killing her child is a valid option. High school students are making a huge difference with their energy, vibrancy and outpouring of love by participating in "The March for Life," our local Walk for Life (Apr. 4), volunteering at the local pregnancy center, such as Foundations of Life, and being prayer warriors in front of abortion clinics or in the privacy of your home or church. Your involvement is making a difference in the life of one of your littlest brothers or sisters. Abortion is the worse injustice of this time. It's up to the next generation to continue speaking up for those that have no voice, by helping those vulnerable women that believe they have no other option," she said.
Any students who are interested in attending are encouraged to sign up early next  year when the forms and announcements are made.
Megan Dubee, high school math and religion teacher, said, "This year we brought nearly three times as many girls as last year to the March. Even though I've been to the March several times, nothing can prepare you for the sheer number of people on the National Mall and Constitution Boulevard. It continues to be an indescribable experience to be counted among the joyful, spirited, and life-affirming crowd that assembles in Washington D.C. each January."