AHN Offers Virtual At-Home Learning Option
September 3, 2020
The start of the 2020-2021 school year has brought along many changes; one of the most prominent changes is the option to do at-home learning via Google Meet. Over the summer, 13% of the high school elected to do online learning for the school year. This number has changed slightly since some students have shifted to in-person since the school year started.
At-home learning provides a way for students who elect to stay home due to a preexisting health condition or their family's wishes to continue their education. Academy's virtual learning combines synchronous instruction with asynchronous instruction. In case of a positive COVID-19 test or an unplanned absence, students can also log on from home to continue their learning.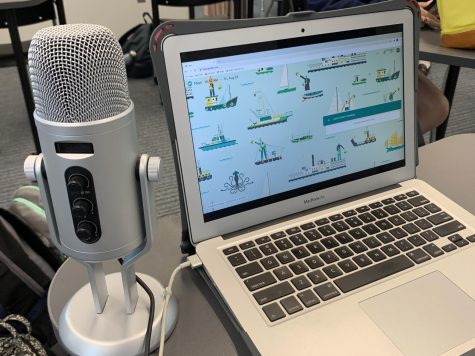 "I elected to do online learning because my grandfather lives at home with me and I did not want to take any risks of bringing anything back to him. Online learning has been difficult to adjust [to]. I am not able to connect with teachers nor fully grasp the concepts being taught due to the virtual set up. In one of my classes, however, I am satisfied with how the teacher is performing. She presents her powerpoint on Google Meet so the students are able to see the notes adequately and she stays in the video frame. Although teachers may have been provided with a microphone, it does not contribute an improved sound quality if not spoken directly into," said Isabella Ruano ('21).
Students can shift between learning options once every six weeks. The six week period goes into effect once the decision to switch choices is made. At-home learning will be available as long as COVID-19 continues to be an issue, likely for the remainder of the school year.  Students who choose at-home learning will continue to receive grades, assignments, and assessments as if they were at school. They follow the normal schedule, and simply log on from home once class has started. Students are expected to log in on time, wear their uniform top, and remain online with their cameras on for the class period.
In every classroom, there is a microphone and laptop set up specifically for communication with virtual students. Virtual students can hear the in-class discussion, and in-person students can hear the virtual students through classroom speakers. Of course, this system has not worked perfectly for some students, as there have been many technical issues on both the students' and the school's end.
"
As with everything, change takes time and requires input from those who desire it.
— Isabella Ruano ('21).
"There may be a silver lining in this situation. I have enjoyed sleeping later, avoiding traffic, and talking with my family during my school breaks. However, my biggest takeaway from this new system of learning is being taught the value and importance of advocating for myself and other students. As with everything, change takes time and requires input from those who desire it. I am hopeful that virtual learning will improve over the course of the school year," said Ruano ('21).
Some students have found at-home learning to be difficult, and thus have switched to in-person learning.
"I decided to switch to in-person learning because I felt that for a lot of my classes, I needed to be here for the hands-on learning experience, [especially for classes] like Engineering, Biology, and Anatomy. I needed to be on campus to really get involved in the learning and have a more tactile experience," said Jenessa Bailey ('21).
Others have had a mostly positive experience and are glad to have the option of virtual learning. At-home learning has brought significant changes to the typical classroom experience; it has required teachers and students to become flexible and creative during instruction time.
For teachers specifically, training was provided for at-home learning. Teachers were advised to use apps such as Jamboard, Nearpod, and Classkick to accommodate students. These apps have played a large role in permitting student collaboration while also adhering to social distancing guidelines.
"Teaching virtual students is definitely pushing my brain to grow. It is a new experience to try and manage a virtual and physical classroom at the same time. I try to rotate who my virtual students are in a group with, just like I do with in person students. I really like JamBoard for shared thought processes, and Airplaying makes showing your work in a math class much easier with social distancing," said Engineering Department Chair Anne Wynn.
As the school year continues, it is likely that students will continue to switch from online to in-person learning or vice versa. With the unpredictability of the COVID-19 pandemic, having online infrastructure in place is useful in case of an outbreak or extended absences. Whether students have elected in-person or at-home learning, Academy families are grateful that they were given options to best prioritize safety, learning, and community.

Loading ...