Students Bring Changes to Chain Reaction this Year
December 3, 2020
Chain Reaction was started by Chloe Mintz ('22) and Laura Caroline Jung ('22) in honor of their friend and classmate, Cailin Cannella's battle with cancer. Cailin, an AHN 7th grader, was diagnosed with bone cancer in 2017. Chain Reaction is a field day and a raffle and its main goal is to raise awareness and funds for pediatric cancer. Chain Reaction benefits the Cailin Strong Foundation and Children's Cancer Center.
This year, Jung and Mintz decided to make a student board to help with the organization of Chain Reaction. They decided to implement a board this year because organizing an entire fundraiser is simply too much work for two individuals. Jung and Mintz also thought they also needed new perspectives. Whatever ideas people may have to fundraise and support pediatric cancer patients, they were glad to consider and accept. 
The board consists of Chapter Presidents: Laura Caroline Jung ('22), Chloe Mintz ('22), and Jimmy Gramming (A'17).  There is one Assistant Recording Secretary, Olivia Book ('23), and two Assistant Treasurers, Andrea Rogas ('22) and Natalie Marks ('24). The heads of the Donations Committee are Faith Joaquin ('21) and Sarah Manck ('21), and the members of the committee are Adele Politz ('23), Sadie Campbell ('22), Megan Bryant ('22), and Elizabeth Mccree ('22).  
Publicity, Social Media and Photography Committee Heads, Teyah Younes ('22) and Alex Fanaro ('22), lead their members: Lizzie Gold ('21), Ashlin Cannella ('24), and Madison Rathford ('24). The Head of Fundraising Games, Bella Besece ('22) leads the games committee composed of Katelyn Butler ('22), Lily Lopez ('22), Aspen Hunter ('23), Morgan Garlick ('22), Bryann Wilary ('23), and Stephanie Oehler ('21).
The Head of Middle School Activities, Izzy Machado ('22), and the committee members, Olivia Lucas ('23), Martina Bain ('23), Alexandra Ragano ('24), Bella Otte ('24) Griffin Hodgon (A' 20), and Jimmy Gramming (A' 17) planned activities for the middle school. The Heads of High School Engagements, Ryan Finnster and Olivia Scarpo ('21), and the members of the committee, Catie Berg ('22), Allie Pramberger ('22), Lauren Lidros ('22), Gianluca Mammola, and Tillie Grammata ('24) planned activities for the high school.
In August and September, members of Chain Reaction formed care packages for cancer patients.  Overall, 26 pediatric cancer patients received care baskets.
Faith Joaquin ('21) said, "I'm so honored that I am the head of the donations committee for chain reaction. We are able to make so many donations for pediatric cancer patients including care packages. These packages are made by all the members of chain reaction in order to lighten a child's day."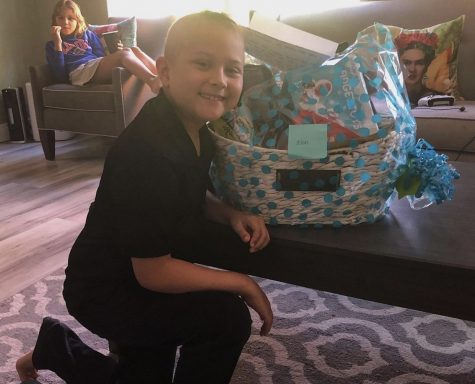 Due to COVID-19 Chain Reaction fundraiser's field day fundraiser did not take place. The t-shirts,  food sales, teacher pie in the face and water balloon dodgeball was all put on hold, however, the raffle still happened.  
Laura Caroline Jung ('22) said, " The most jarring  difference is not being able to interact with attending the raffle. Names on a screen are simply not the same as the joy brought to our event in the past. Regardless, I am thankful for this opportunity to hopefully improve pediatric cancer treatments, albeit virtually."
This year a virtual raffle was launched on Sunday, Nov. 15 and closed Saturday, Nov. 21. The raffle had many different local restaurants, boutiques, dessert locations, and spas. It also included gift certificates to, Mad dogs Englishmen, Ulele Restaurant, Columbia Restaurant, Marathon Gas, Publix, DKM accessories, Pia Esthetics Day Spa, Trattoria Pasquale's Italian Cuisine, Goody Goody, Jimbo's Pit Bar BQ, Yogurtology, the Green Boutique, Chill Bro's, Pane Rustica, Avalon Exchange, Chick Fil A, Starbucks and The Hyppo. 
The raffle also had a Sketch Art Studio class, Custom Made door Wreath, Pinchasers Family bowling pass, an AHN Door sign, two general admissions tickets to the Florida Aquarium, a Microneedling treatment, gift bag from Creme de la Creme, one 8-inch Decorated Cake from Nothing Bundt Cakes ,and a 1 lb toffee certificate. 
View this post on Instagram
Despite this year's challenges, the raffle was very successful. Chain Reaction raised a total of $5,000. Chain Reaction plans to continue holding their yearly event in the future.
They plan to host the field day one last time before the co-president's graduate. The events hosted this year, though they were mainly implemented on account of COVID-19, can be carried through to next year as they were equally successful. Chain Reaction would also love to involve more of the community and spread Chain Reaction related events throughout the year, as pediatric cancer is not a concern solely in September but rather every day of the year).