What Defines American Culture?
January 20, 2021
What comes to mind when one thinks of American culture? 
For writer and director Lee Issac Chung, it's the pursuit of the American dream — prosperity, freedom, and individuality for all. As the son of South Korean immigrants, Chung reflected these beliefs in his semi-autobiographical film "Minari," which premiered Dec. 11, and is scheduled to release theatrically on Feb. 12. 
"Minari" follows the life of a Korean-American family who move to a tiny farm in Arkansas and, amidst the instability and challenges of their new life, "showcase the undeniable resilience of family and what really makes a home." Chung wrote the film after his parents' own experience as Korean immigrants in America.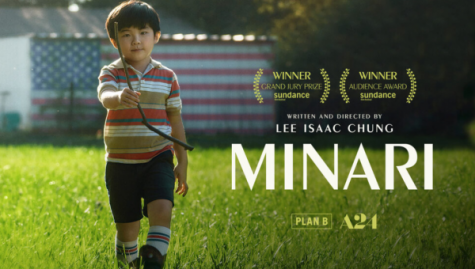 Despite its wide critical acclaim, winning a positive review from 100% of critics on Rotten Tomatoes, as well as 31 awards since December, controversy arose when the Golden Globes announced that "Minari" would be unable to compete in the Best Picture category — instead, it would compete as a foreign-language film. 
Although the film is an American-made movie filmed in America about American life, the Hollywood Foreign Press Association (HFPA) upholds the rule that 50% of the film's dialogue must be in English to be considered for Best Picture. Criticism of this decision targets the HFPA's reportedly xenophobic rating system, as Lulu Wang, director of "The Farewell" which was similarly denied a spot in the Best Picture category, called for a "change [to] these antiquated rules that characterizes Americans as only-English speaking." 
This decision has been especially hypocritical after Quentin Tarantino's 2009 film "Inglourious Basterds", a film about the first year of Germany's occupation in France in 1941, was nominated for the Best Picture position in the 2010 Golden Globes, despite the film being only 30% English.
"I think it's sad how the only thing holding 'Minari' back from competing in the Best Picture category is a simple language barrier. This small and simple difference seems to divide people and countries further apart," said Danielle Fonsing ('21). 
#GoldenGlobes, stop automatically categorizing films depicting languages other than English "foreign language films"! I grew up in an immigrant household where I spoke more Mandarin than English and we are Americans! CA has the lowest rates of English use at home (56%)! https://t.co/rfIbTm1SYb

— Nancy Wang Yuen (@nancywyuen) December 23, 2020
It's strange how America got to this point of English exclusivity — America in itself is built upon immigration from other countries, and according to the Census Bureau, a new immigrant moves to the United States every 33 seconds. America is therefore one of the most culturally diverse countries in the world, with American culture itself being a melting pot of hundreds of unique cultures, including those of Native Americans, Latin Americans, Africans, and Asians. 
But although almost 40% of the US population is of an ethnic background, language policing, which casts the use of non-English languages outside the realm of acceptable interaction, has only been increasing. While English is the primary language of America, some non-English speakers when conversing in their native language are frequently told "this is America, speak English," or to "speak American." Not only does this promote the falsehood that America is English-exclusive, but it disparages the expression of native languages and cultures all together. 
"I think Americans have developed this certain mindset of what the definition of 'American' is: speaking English and being white. Unfortunately, I've seen this mindset has been passed down for generations, even within families who don't speak fluent English and aren't white," said Claire Wong ('22). 
Had an opportunity to watch #Minari today and IT IS the American story.

It is an immigrant story
It is a farmers story
It is an entrepreneur story
It is a story about family fighting for each other.

I loved it and needed to see something like this (especially this week). pic.twitter.com/wOborF7Pz4

— 🎮Yuichi (@InstallBase) January 13, 2021
This disparagement is detrimental — as immigrants are encouraged to assimilate and "speak American," the adoption of the English language replaces the language of one's immigrant parents and grandparents, resulting in a detrimental loss of cultural identity and heritage. According to a study, it also may assume that immigrants, encouraged to become "normal" are inherently threatening, as deviants from a "putative white normativity."
This depreciation of immigrants' native cultures contributes to a societal epidemic of xenophobia, which is defined as a prejudice against people from other countries. But the solution to eradicating this lies not with cultural assimilation as much as cultural appreciation. 
"I think that America was founded on inclusivity, equality, and freedom, and I do not think prejudicing people based on what language they speak reflects that. To uphold this foundation, America needs to be open to new and diverse ideas and cultures and adapt accordingly," said Fonsing.
Most racist thing you can say to a foreigner in America is "speak American"

— Wes 🌙 (@biigwes_) January 19, 2021
In such a diverse society as America is, the benefits of sharing culture are significant, which research has shown. The building of social relationships by establishing trust and reciprocity can lead to a decrease in fear, intolerance, and isolation, while increasing a sense of belonging and pro-social behaviors. Most of all, sharing cultures promotes an understanding that can decrease xenophobia and racism.
But for many, language is also part of culture. To ensure immigrants can keep their cultural identity, language support is important in an increasingly diverse American society. Pew Research projects that by 2055, the US will not have a single racial or ethnic majority, as population growth is projected to be linked to new Asian and Hispanic immigration. 
"The Golden Globes can choose to grow from this situation by adapting their rules. 'Minari' still has a chance to win at the Academy Awards like the film 'Parasite,' which was entirely subtitled and still won, and that's a more prestigious award than the Golden Globes. Films are meant to persuade and push boundaries through visual story telling — it seems that 'Minari' has been successful in that, so it deserves the same respect and opportunity as other films," said Communications Associate Austin Newman.
Additionally as of 2013, over 73 million Americans speak a language other than English at home, with only 100,000 students learning English as a foreign language in the US. As these numbers increase, to continue enriching our melting-pot society, language support should be implemented instead of encouraging assimilation.  
The film equivalent of being told to go back to your country when that country is actually America. https://t.co/kwEf8eO9v8

— Daniel Dae Kim (@danieldaekim) December 23, 2020
"America needs to change its mindset of what being an American is. It is a nationality, not an ethnicity. In other words, we are all Americans, but we are American in our own unique ways. And every way should be accepted," said Wong. 
To say American culture is characterized by English-speaking and whiteness would be a lie — American culture is founded upon and enriched by immigrants and their own pursuits of the American dream. As exemplified in "Minari" by Chung, an American born of Korean-American parents, the word "American" does not fit one definition — and one's experience should not be invalidated as American simply because it doesn't fit the status-quo.