Chinese New Year 2023: What to Know, What to Expect
December 17, 2022
"5, 4, 3, 2, 1, HAPPY NEW YEAR!!!" Fireworks and cheers fill the sky as everyone transitions to the new year at midnight. But, did you know that this is not the only New Year celebrated?
Determined by the lunar calendar, since the Shang dynasty (1600-1046 BC), the Chinese new year has long been celebrated to honor ancestors and the coming of a new year. People celebrate from the preceding days of the Chinese new year to the fifteen days after. The following process includes:
1.Preceding Days (23rd-29th of the 12th lunar month)
Cleaning the house (used to symbolize coming into the new year with an organized mindset) and New Year shopping( used to come into the new year with new items)
2. New Year's Eve (30th of the 12th lunar month)
Putting up spring couplets (Decorations used to express happiness and hopeful thoughts for the coming year), Enjoying a reunion dinner, giving red envelopes (lucky money to kids), and staying up late
3. Chinese New Year
Setting off firecrackers and fireworks (to scare away evil spirits and to signal the start of a safe and prosperous new year. ), offering sacrifices to ancestors.
4. Day 2-7-
Visiting relatives and friends 
5. Day 8
Most people go back to work
6.Day 15 (Lantern Festival-CNY period ends)
Lighting and watching lanterns 
Eating sweet dumplings (signifying wealth)
More Fireworks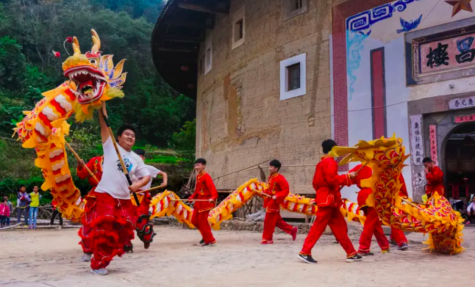 According to China Highlights, " It is customary to wear red or other brightly-colored clothes on New Year's Day, to go with the festive and upbeat mood. Red is China's good luck color, believed to scare away spirits of bad fortune. Some families wear traditional Chinese clothing like qipao or Tangzhuang."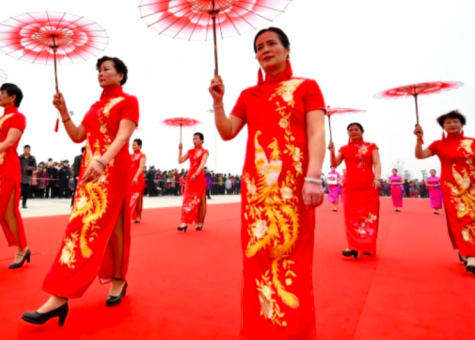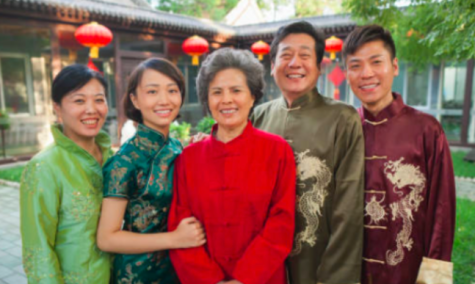 Food is traditionally served during New Year's Eve as each food stands for a specific blessing in the New Year. Foods such as the following can be seen being served:
Fish- an increase in prosperity 

Dumplings-wealth

Spring Rolls-wealth

Tang yuan (Sweet Rice Balls)-Family togetherness

Good Fortune Fruit ( oranges, kumquats, tangerines, and pomelos)-fullness and wealth

Nian Gao (Glutinous Rice Cake)-A higher income or a higher position

Longevity Noodles-Happiness and longevity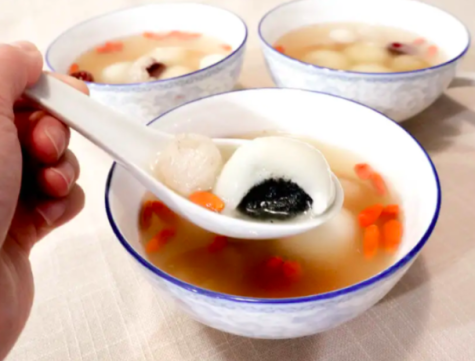 As there are recommended foods to eat, there are also foods to avoid. White foods such as eggs, tofu, and white cheeses signify death, as within Chinese culture white is worn for funerals. Certain foods like porridge, which signifies poverty, are not eaten during the day so that they will not follow you into the new year. 
Celebrated every year is a Chinese zodiac sign/animal to mark one's destiny for the year. Depending on what year you were born can also symbolize your personality. Next year's zodiac (starting January 22nd, 2023) will be the Rabbit! This symbolizes mercy, elegance, and beauty for all who are born in the year of the Rabbit. Similar to western zodiacs each animal includes a personality type, most/least compatible companions, and daily horoscopes. Do you know your zodiac animal? Find out below! 
Kyla Monts (Grade 12) comments," Chinese New year is so cool to learn about! I find out new and fun traditions every year, and it is great for me to stay educated about other cultures. I know that I am the year of the rooster, so I cannot wait to see how this year, the year of the rabbit will be for us all. Happy Lunar New Year to all that celebrate!"