2023 Winter Sports Senior Night
January 25, 2023
The Academy of the Holy Names celebrated all seniors who participate in winter sports on Friday, January 20, 2023. The celebration of seniors has long been a tradition of the school and is an event that student-athletes, coaches, parents, and friends look forward to throughout their time with the Academy. 
The evening began with the soccer team's seniors lining up with their parents and other loved ones and being individually called to the center of the field. Here, each senior was honored with a personal speech written by an underclassman on their team. They were gifted Academy memorabilia and posed for many photos to keep memories of the night alive. At the pinnacle of the evening's festivities, the Academy soccer team prevailed with a 2-0 win over Episcopal School of Jacksonville.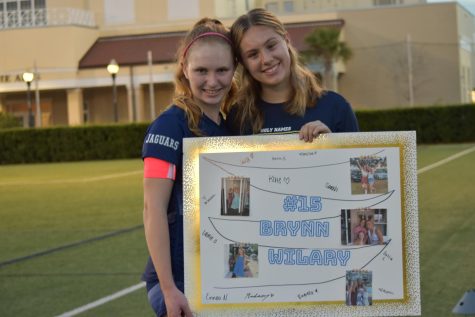 Senior goalkeeper Adele Politz ('23) detailed the evening saying, "Senior night has been something I have been looking forward to since I started with the Academy soccer program four years ago. Everything about it was so fun and special. The game was good as well, I enjoyed getting a win with my senior teammates on such a special night."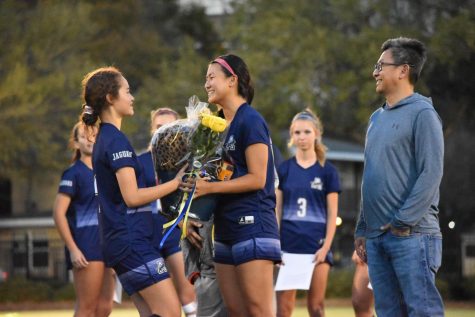 The night continued with Basketball. Before the commencing whistle, the lone senior on the team, Jayda Pinder ('23) was called to the middle of the court where sophmore Anna Prieto ('25) gave the customary speech which detailed the many memories and accomplishments Pinder ('23) had established throughout her four years on the team. Prieto ('25) detailed her experience saying, "I had a great time getting to see how happy our whole team was honoring all of the hard work Jayda has put into our team." The game progressed with a favorable performance from the Jags, resulting in a 62-45 win over River Ridge High School to end the special night off perfectly. 
Pinder detailed her experience saying, "I enjoyed senior night because I was surrounded by friends and family and was reminded how far I have come in my basketball career."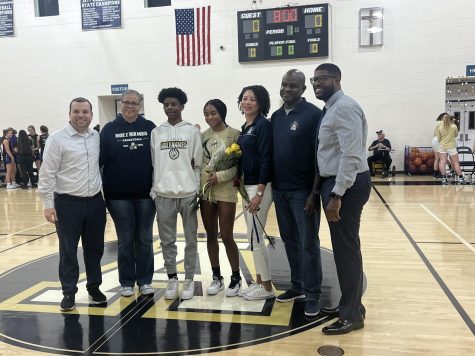 The third group of senior athletes that were honored on AHN senior night were the Jaguarettes. At halftime of the basketball match, fans were able to enjoy performances by the dancing group. Before the performance, senior dancer, Lacey Simon ('23) was honored as the only senior on the team. Simon ('23) is a four year member of the squad and has been with the group through its progression over the years.