Academy hosts "Student Directed Series"
January 31, 2023
The annual Student Directed series showcases the three pillars of the performing arts: singing, dancing, and acting. This three-night event typically consists of Unplugged, So You Think You Can Dance, and a student-directed One Act. With this new year came new ideas as Unplugged became One Night Only and this year's one-act was directed by Senior acting student Ximena Sanchez.
One Night Only was held on January 6 and directed by Aydan Sullivan ('24). This night gave students a chance to perform or present anything as long as it was an original work. The performances were the following: Julia Dean ('23) sang and accompanied herself on the piano, Mykhia Pursley ('23) performed a poem, Maya Arevalo ('25) sang and accompanied herself on the ukulele, Catalina Salgado ('24) presented three art pieces, Sasha Paloma ('26?) sang, T'Niya Brooks ('26) performed a poem, Bella Otte ('24) presented her short film, Aydan Sullivan ('24) sang and accompanied herself on the piano
Aspen Hunter ('23) said, "I love any chance to see how incredibly multitalented my peers are, and One Night Only was an even greater example of that because every performance was entirely original. I especially enjoyed the variety of talents shown, as there was singing, poetry, art, et al.— it genuinely allowed students to express themselves in their own unique way, and I could not be more glad to have witnessed it."
Performed on January 13, this year's one act was entitled "An Empty Comedy Club" – written and directed by Senior Ximena Sanchez. Sanchez is in Acting III and was given full creative freedom over the script, set, characters, and casting.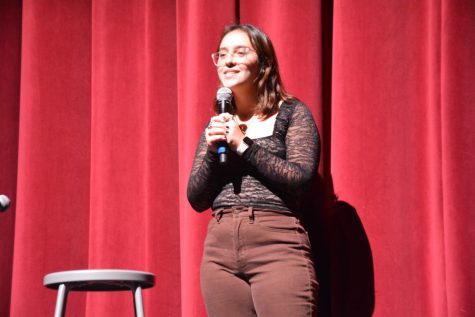 As for the one act itself, the story follows a struggling comedian, Allison Hill, as she attempts to teach her craft to disgruntled banker Crystal Clark. As the two form a connection, they discover they are more alike than they realize. The one-act consisted of a three-person cast: Giuliana Seise ('24) as Crystal Clark and Karly Luikart ('24) as Allison Hill with Delaney Lampinen as Crystal's estranged daughter. 
Sanchez said, "I'm glad I got this opportunity. Being able to write my own work and put it on the stage was really rewarding and helped me learn more about areas of theater aside from acting."