Academy girls top 5 after school hangout spots
Although all Academy girls don't live in South Tampa, we can usually be found in these five locations near AHN campus. Now that we end school at 2:45 there's more time to explore what South Tampa has to offer before  practice or right after school.
1. Starbucks
3409 Bay to Bay Blvd. Tampa, FL 336297042
There hasn't been a time after school that I haven't ran into an Academy girl in the Starbucks line, especially since one is located near campus  on Bay to Bay. Even if you don't like coffee, Starbucks offers other options. Popular non-coffee beverages are a nice Iced Caramel Macchiato, Passion Tea Lemonade or even a Frappuccino. Academy girls seem to favor Iced coffee over hot coffee. Even if you just order water Starbucks is a great place to get your homework done or just hangout with friends.  If you pass by any Starbucks parking lot, you are more than likely to see a handfull of monogrammed cars with the AHN parking sticker on them. Junior Siobhan Lynch sometimes goes to Starbucks even twice a day and never gets tired of it.
2. Yogurtology
1202 S Church Ave  Tampa, FL 33629
Yogurtology has over a dozen flavors to choose from along with a multitude of toppings. There are a couple of Yogurt  eateries near Academy, but Yogurtology usually has many AHN students after school. Junior Kayla Rodriguez always gets the cookies n cream with peanut butter sauce. "It's my favorite place for after school snacking!". If you are looking for a refreshing  snack before practice, you can get a healthier yogurt.  A Vanilla yogurt topped with fruit and nuts , will give you the energy neccessary to succeed.
3. Xtreme Juice
619 S Dale Mabry Hwy  Tampa, FL 33609
Many of our own Academy students work at Xtreme Juice. For those craving a healthier, lighter snack, a smoothie from Xtreme Juice is an excellent choice.  Xtreme Juice offers of variety of smoothie combination. Some student favorites are Raspberry Rapture, Colada Crush and Strawberry Banana Incident. Junior Claire Cardillo, who is also an Xtreme Juice employee, enjoys the perks of a free smoothie after her shift. "My favorite smoothie is Peanut Butter Whirl".
4. Chick-fil-A
609 S Dale Mabry Hwy Tampa, FL 33609
Chick-fil-A is a great place if you want to grab a small snack after school. They have a large variety and a fast drive-thru.  Academy girls love getting chicken minis for breakfast. Everyone loves their nugget meal and sandwiches. According to Senior Hannah Hancock, "Chick-Fil-A makes my day!".
5. Sugar Shack
1521 S Dale Mabry
Tampa, FL 33629
Sugar shack is a new place on S. Dale Mabry that serves "snowballs". It offers many different flavors to pick from and mix together. Sugar shack has a fun environment and a wall where everyone can sign their names. If you take a look on the wall, you will definitely find some Academy girl's names you know. From looking at the new writings on the wall to trying to convince the owner to make a snowball flavor named after you, Sugar Shack is always filled with fun.
About the Contributor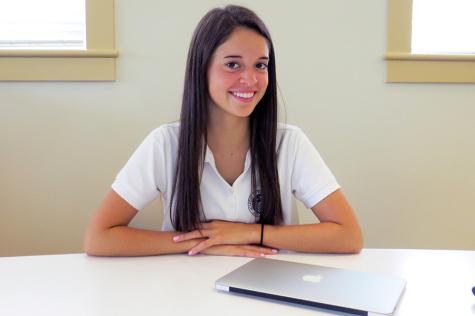 Gaby Ruiz, Arts & Entertainment Editor
Senior Gaby Ruiz has been on Achona since Sophomore year. She's Arts and Entertainment Editor and Captain of the Jaguarettes Dance Team. She enjoys watching...