Tasty: Avocado Boba
February 8, 2017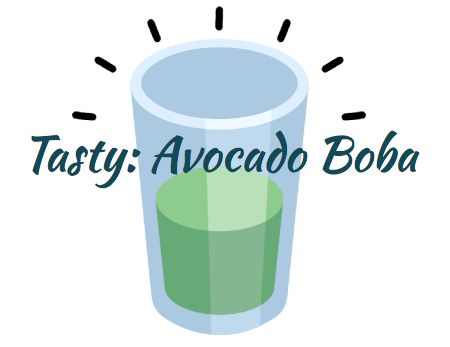 At first thought, avocado smoothies with boba does not sound like an appetizing delicacy to "enjoy". But, contrary to popular belief, it is a favorite amongst many Asian cultures. This sweet, creamy concoction lives at the heart of many, and this is your chance to create liquid heaven.
But, why avocado? Avocados should be strictly cut into a salad or placed on toast for breakfast. Not blended into a smoothie. But avocados serve as a natural sweetener to the smoothie which brings about a sweet flavored smoothie.
Senior, Lara Lontoc says, "When they make it they get fresh avocado and scoop it into the blender and the sweetness it brings and how it mixes with the other ingredients is why I always order it at Asian restaurants. It is just the perfect amount of sweetness."
And, what is Boba? It is a small, usually black, balls of tapioca used in beverages which are generally consumed through a large straw. Commonly known as tapioca pearls which are little balls of starch, extracted from cassava plants. They have a chewy texture and they taste sweet, but not overwhelming.
Cook time: 30 minutes
Ingredients, you will need:




½ cup of tapioca pearls

Tapioca pearls are not easy to find. It is not located at Publix or Target. However, they are available for purchase at your local Asian grocery store. The one I went to was Din Ho Market.
1 cup of ice
1 avocado, pitted and scooped out in chunks
Juice of 1 lime
If you want it very sweet: ½-¾ cup of coffee vanilla creamer
If you want it slightly sweetened: ½-¾ cup of milk
1 cup of water
To prepare your boba: Boil a small pot of water. Cook the tapioca pearls per package instructions. Once they are done, drain and transfer to a small bowl with a small amount of room temperature water so they do not harden and dry out.
To prepare your smoothie: Pile the ingredients (ice, avocado, lime, condensed or whole milk) into your blender. Blend until smooth.
To prepare your avocado boba smoothie: In a tall glass, add a ¼ cup of tapioca pearls and pour your avocado smoothie over the top. Get a large straw and enjoy!