Tips to get spring break body
February 23, 2017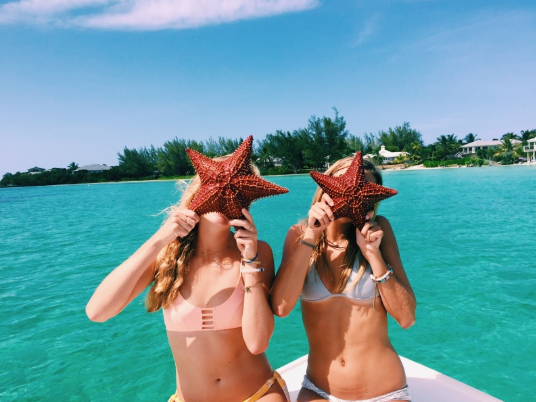 Spring Break is quickly approaching, which means it's time to swap out your warm winter sweaters for some trendy swimsuits. In order to feel confident for spring break, you must be comfortable with your body. Here are some tips to help you nail just the look you want this spring break.
Me: I'm gonna start getting in shape for spring break
Calendar: Spring break is in 12 days
Me: pic.twitter.com/KyPw1N2PwT

— Brendan Barrow (@BrendanBarrow5) February 20, 2017
Drink a lot of water
Water is very important when trying to get in shape and stay healthy. Some of its many health benefits include helping with digestion, fatigue, mood, constipation, flushing out toxins, and losing weight. You should consume about eight ounces of water a day.
Junior Talia Sharrieff says, "I start drinking only water once March hits to clear up my skin and help me stay in shape for my bikini body."
Clean and healthy diet
When trying to shed weight, it is important to cut out unnecessary sugars and greasy foods and focus on eating raw foods such as fruits and vegetables. As you lose weight, your body begins to burn fat and you lose muscle. Protein helps repair and build muscle and tissue in the body. Some popular protein-building foods include eggs, leafy greens, tuna, chicken breast, and beans.
Senior Lissa Ogden says, "When it gets closer to spring and summer I usually up my cardio and try to eat more protein. I also drink chlorophyll water every day because because it's high in antioxidants, detoxifying, and helps you tone and heal your muscles."
https://twitter.com/blogilates/status/826932829451800576
Exercise
Along with eating healthy and drinking water, exercise is essential to obtaining a toned body for spring break. If you do not have a gym membership, do not worry, there are many youtube channels, such as Blogilates, that offer videos with workouts for toning and slimming down.
Sophmore Rebekah Eicholtz says, "I go on Pinterest and try to find different workout routines to follow before spring break to help tone my legs and core."
Stay Motivated
In order to fully get in shape, the most important part is being motivated to do so. Without any motivation, you will not get the results you want. Record your activities, take pictures, and tell your friends and family in order to push yourself more to succeed. You need to set goals of what you are trying to achieve for your body, such as how you will get in shape, what you are trying to tone, and why you are doing it.
Be confident in your body
Confidence is the most important thing when loving your body. Girls with all different body types are confident in their body because they are comfortable in their own skin.
Model, Ashley Graham is known for being confident in her curvy body. She has brought a new standard for body shapes in the modeling world by being the first size 16 model to be on the cover of Sports Illustrated. She motivated girls to love their bodies and be confident in their own skin.
Junior Lyric Vickers says, "I love my curves and I'm confident in my body even though it's not society's standards of a 'bikini body.' I think everyone should love their body and not feel they have to look a certain way to be happy."