One Gallon of Milk: $4.38
October 6, 2022
Imagine this: You go into the grocery store, just getting a few items that are starting to run low in your kitchen.
You originally just go in to grab a gallon of milk but realize you need a carton of eggs, a loaf of bread, some coffee for mom, chicken for dinner, fish for later, and some rice. When you head to the register you come prepared with your twenty-dollar bill, you notice that your bill comes up to nearly 30 dollars!
Though it may seem like a slight change, this can be seen as a major difference in the economy over just one year. Sound familiar? This is what currently happening now in all industries, even if you may not be paying the bill.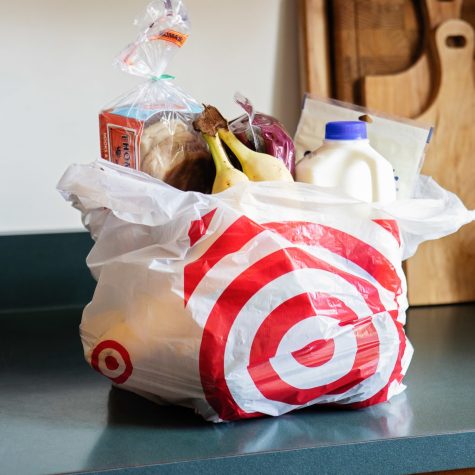 According to CNN Twitter, many Americans are noticing this rise in prices. Not only from the pandemic years but the overall loss of supplies due to fewer workers and available supplies. An obvious example of this is the price of chicken. With the chicken shortage, the average cost of drumsticks or eggs has increased by $1.00 ( per lb. or cartoon). Though this dollar difference seems minor the bills began to add up with more demands for products. Depending on which store you go to is also important. More organic and dietary inclusive stores may cost more to make up for the amount of product shipping in that are low in numbers.
Americans browsing the supermarket aisle will notice most food items are far more expensive than they were a year ago. Egg prices soared 39.8%, while flour got 23.3% more expensive. Milk rose 17% and the price of bread jumped 16.2%. https://t.co/tKRonaCju6

— CNN (@CNN) September 13, 2022
As the economy is affected every day by the actions of our dependent food source corporations, demands on money are also in the equation. As seen below, a milk chart can visualize how over the years, money has been valued for items, basic knowledge of each year can explain this.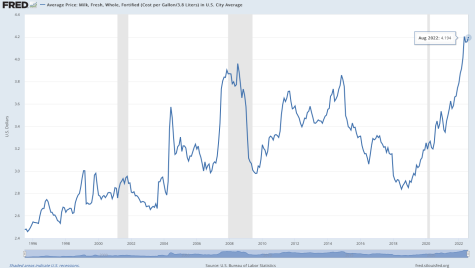 Labeled as "August 2022: $4.194" it can be seen as the summit of a static price ranging where of August 2021 a gallon of milk used to cost $3.56. Not only will this price begin to increase with demand, but the depleting supplies will also cause prices to rise.
Sadie Patrick (11) and Gwen Martin (11) comment, "Even though we don't notice as we are not making those economic decisions, as we get older it will be something we have to deal with. This is important to know about inflation and whom it affects because it will soon affect us as well."
The current possible solution is to increase supplies or temporarily not buy the items until prices are lowered. Depending on your family situation, this difference may negatively or positively change your shopping budget.
There are also some things that you may have to sacrifice in order to be able to put food on the table. Want to buy name-brand snacks but notice that it's five dollars for just one box? Try looking for the store brand instead. As there are many other solutions to adapt in increasing groceries, make sure to notice the price changes beforehand.