Class of 2020 Attends Senior Retreat (VIDEO)
October 22, 2019
On Wednesday Oct. 16 the senior class of 2020 traveled to the DaySpring Episcopal Conference Center. While the underclassmen took the PSAT, they were headed to their Senior Retreat. 
The day started with a welcome from DaySpring staff, then seniors were split into their groups by their advisories.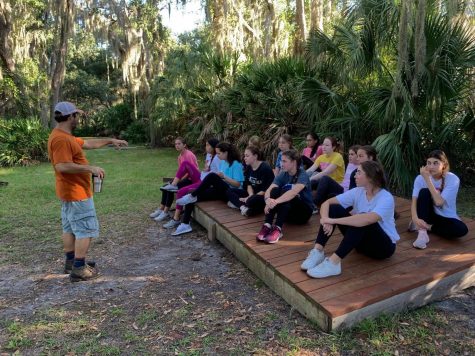 Seniors participated in various activities, such as rock climbing, low ropes exercises, and something called the Leap of Faith; where girls would climb up a 15-foot-pole and jump off the top. While some students found the exercise easy, other felt it was difficult. Tress Jacobs ('20), for instance, couldn't stand up on the pole, and instead of jumping, slid off the top. 
"It was the most terrifying thing I've ever done. However, I couldn't have done it without my classmates encouraging me and telling me that they would catch me when I fell. It was a really reassuring moment and I gained a lot of trust in them through it," said Jacobs. 
Reactions to the retreat were positive. Girls had fun bonding with their classmates while working together to complete the tasks given by DaySprings staff. The exercises themselves were well-recieved. The seniors also like how the groups were split into advisories.
"My advisory supported each other throughout all the activities we did. It was amazing to see how we came together. It was honestly the most fun I've ever had with my grade as a whole," said Kara Pettit ('20).
By the end of the day, the class of 2020 returned with a greater appreciation for their fellow seniors.