Mrs. Krukar sets her own pace at AHN and beyond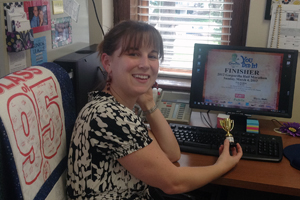 Marathons and Avengers and Gators… Oh my! A superwoman is among us, roaming the high school hallways. You may be wondering how you have not noticed this super-being before, or what she does with her time. Perhaps it is her lack of a cape and tights that threw you off. But no worries. Her identity will now be revealed in this special-edition interview.
 Her name is Mrs.Erin Krukar. Born and raised in Tampa, Florida, she went to Christ the King for elementary school and Academy of the Holy Names for high school.
 With her classroom filled with Gator paraphernalia, it is easy to see where she attended college. Her school-loving personality found joy in the routine and overall structure of the student world, making Mrs. Krukar realize her passion for teaching early on.
 "I decided to become a teacher when I went through college.  I was a journalism major there, and the college student's prerogative decided maybe journalism wasn't right for me."
 When Mrs. Krukar discovered a program at USF allowing for non-education majors to acquire a masters in education, her decision to teach was that much more certain.   "Being a teacher was always in the back of my mind because I love school. I could be a perpetual student and be perfectly happy. So once I found that program, everything kind of fell into place, and here I am!"
 Mrs. Krukar's English teacher persona shines through when asked about her pet peeves. This superwoman's kryptonite is math. "Numbers and I do not agree. If you give me an algebra problem with letters and numbers and everything else, it just does not work. So, it's not a knock to any of my math teachers, many of whom are still here, but I'm more attracted to words and stories and writing than I am to science and math."
 When it comes to pet peeves, misusing grammar reigns at the top of the list.  "People who confuse good and well… drive me crazy… And using improper grammar on Facebook or in texting drives me nuts … like B4… we're not playing Bingo when we are writing."
 Mrs. Krukar's interests extend beyond that of books and grammar. She is currently a big fan of the Avengers series movies. "They are just very exciting! I like having backstories in them.  All of those movies intertwine with each other.  I love seeing all the individual stories, and then the actual Avengers movie.  It was awesome!"
 She also enjoys the Twilight movies, claiming they are her guilty pleasure films, and Dirty Dancing. "It's a fun movie and I just want to dance every time I see it!"
 Not only does she like dancing movies, but Mrs. Krukar performed her first dance recital, which included ballet, jazz, and lyrical dances, at age 27.  However, when asked about her hobbies and interests of today, Mrs. Krukar responded, "My biggest hobby is running. I got into it probably about five years ago now. My husband and I ran the Gasparilla 5k and I got bitten by the bug pretty hard."
 Her competitive spirit gives her the edge when running, even placing in some of her races. Because she finds it so enjoyable, she has participated in two half-marathons, and will be taking part in a third in November.
 Although she is a new addition to the AHN faculty, she is a returning member to the Academy community. When asked about her favorite high school experience, she stated, "Wow, there are justso many of them! But if I had to choose, probably just overall, and any senior will understand this, that senior year was the best year ever. I mean we had the Senior Lounge, which in my time was on the entire length of the second floor.  From the stairs we came me up all the way over. We had a set of couches and TVs and everything… We all got along and it was just awesome. It just made that year so enjoyable."
The experience left her yearning for more, resulting in her return as the new freshman English teacher. "Once this job became available, I knew that everything was kind of falling into place, and that it was time to come back."
 Although she may not have the superpowers that are usually characteristic of a superhero, Mrs. Krukar is a superwoman in her own right.   "Always keep time for yourself. Even though there are all kinds of activities and football games and  studying to do, always make sure you take time for yourself."
 Her sparkling personality makes Mrs. Krukar a fabulous new addition to the AHN faculty. We are lucky to have her back in our Academy home.