Blessed Marie Rose Dinner honors Academy's founder, AHN Sisters of the Holy Names, and generous donors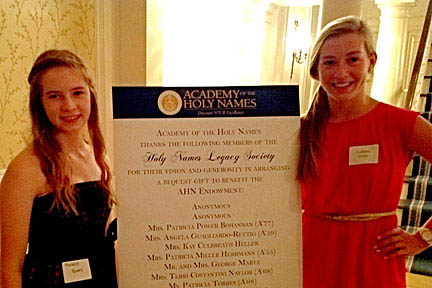 The 2012 Blessed Marie Rose Dinner was a night to remember not only the birthday of Blessed Marie Rose but to honor the Sisters of The Holy Names who keep alive her memory in the work that they do.  Eloquent speeches of gratitude and music by the Quarter Notes inspired guests, who met at the home of Mr. and Mrs. John Bales (Tracy). Student recipients of scholarships thanked donors who keep Academy affordable and allow a rich diversity of students from all cultures to attend.
Despite the stormy skies and flooded roadways, many people attended, not allowing the weather to spoil the evening. AHN's show choir, the Quarter Notes, performed renditions of "Breathe," "Holy is His Name," and "The Magnificat." With their glittering gold dresses, the performers moved some of the audience to tears. One attendee referred to the performance as so extraordinary that "even the clouds could not hold back their tears at the beauty of their singing."
Two students of Academy expressed their appreciation to the benefactors. Senior Caroline Dolan, the first speaker, spoke about her experiences on the Mississippi Mission Trips. "I went on service trips to change lives, but what occurred was the opposite. I was the one who was changed by seeing the strength of the Camp Agape kids, the generosity of the Jonestown people, and the hope in the eyes of the children at the Faith Children's Home."
KeTaira Phillips, a junior and the second speaker, thanked the benefactors as the inspiration for her accomplishments at the Academy. "I would not have the opportunity to attend the Academy if it were not for your generosity."
The night closed with an expression of gratitude by Mr. Art Raimo, the Academy of the Holy Names President.