Class of 2012 turns out strong for Alumnae Luncheon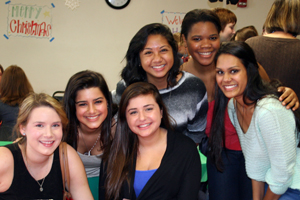 Teachers, administrators and seniors turned out to welcome home the Class of 2012 after their first semester of college on Tuesday, December 18, at a luncheon in their honor in the Academy Board Room.
On hand to share their college experiences with the Class of 2013 were 50 of the 77 girls in last year's graduating class. All reports were better than great for these college freshmen – their grades are high, their college professors say they know their stuff and they have found new interests and activities in adjusting to campus life.
Seniors who have already received college acceptances were the first to pair up with girls from their colleges for some early advice.
AHN Development Office played host for this event, supporting the efforts of Alumni Director Mrs. Patty Bohannan, who could not have been happier.   " I am thrilled that so many girls came back to see us, and that our seniors were there to welcome them!"