Missionaries look to Academy support through shoe drives and Penny Wars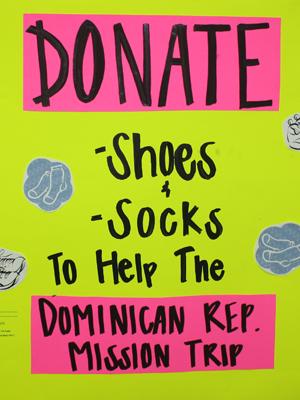 One hundred-four Academy girls are preparing for the highlight of their spring – mission trips!  During the third week of March, five mission groups will set out on work missions to locations as far away as the Dominican Republic and as close by as Hillsborough County.
Currently, homerooms are called on to raise money and collect donations for these mission locations, including shoes, clothes, books, and school supplies. Both high school and elementary school students are participating in this drive with the overwhelming response by lower school students challenging high school girls to match their generosity.
Money Wars play a large role in this year's fund raising. Pressure is on students to collect the most money in their homerooms to win a "comfy clothes day," which means winners can wear sweatpants, slippers, and other comfortable clothes to school instead of their uniforms.
Twenty girls will travel to the Dominican Republic to work with the families of La Victoria. Twenty-five missionaries will go to Mississippi, while 16 girls will help in Appalachia. Closer to home, 24 Academy students will be helping the migrant workers of Ruskin,  and 19 girls will work with the homeless and/or hungry in Hillsborough County.
Though the focus on material needs is an important part of mission preparation, missionaries still make sure to take time for spiritual preparation. The kick-off potluck dinner last fall welcomed the newest Hillsborough Mission Group, as well as inform all missionaries about their trips and prepare them spiritually.  The next spiritual preparation will be on February 15 in the Blessed Marie Rose Chapel.