Rho Kappa members celebrate Constitution Day
Academy's Rho Kappa members celebrated Constitution Day by wearing all of their red, white and blue shirts and accessories to school this past Tuesday. Patriotic wear included shirts, bow, hair ties, bracelets, earrings, and even sunglasses. And of course, there is no such thing as a celebration at AHN without an outstanding bake sale. The Rho Kappa ladies set up an array of cookies, cupcakes, and other baked goods to sell during break and lunch to raise money for their honor society.
What is Constitution Day?
Constitution Day, also called Citizenship Day, is an American holiday which recognizes the completion of the US Constitution as well as all US citizens.  It occurs annually, falling on the weekday closest to September 17. On Constitution Day, Americans celebrate by dysplaying the country's flag on government buildings and inviting people to celebrate the event in schools, churches or other organizations across America.
What is Rho Kappa?
The Rho Kappa Honor Society recognizes students in middle school and in high school who demonstrate excellence in the Social Studies field. Its purpose is to foster understanding and appreciation for all areas of Social Studies. Academy's Rho Kappa Chapter began just recently in 2012 and is currently headed by Social Studies Department Chair and teacher, Mrs. Lori Kearney. In order for academy girls to be accepted into Rho Kappa, they must have completed four semesters of courses in the social studies field and be prepared to complete at least six semesters. They must also maintain an 88% average in these classes. In addition, these students must show proof of at least three hours of community service and turn in a letter of recommendation from a teacher to be considered.
The new chapter of Rho Kappa is sure to promote even more interest in the Social Studies subjects for students and grow into a successful Honor Society at Academy.
Leave a Comment
About the Contributor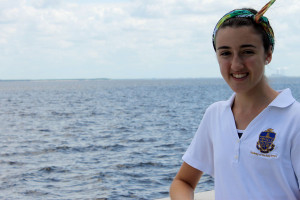 Gini Barreda, Features Editor
Although her strengths lie in writing and editing stories for Achona, she also specializes in Storify and photography. Gini is currently President of the...