Scrunchie Thursday
The senior class of 2014 has always been known for their school spirit. The girls' overall unity and enthusiasm became apparent four years ago when they first entered Academy's high school. Since their freshman days, the girls have bonded even more and started new class traditions along the way.
The class of 2014 first wowed other Academy girls during Spirit Week 2011. The girls managed to coordinate their outfits for the themed days and threw an unbeatable toga party in the freshman locker room to wrap up the successful week.
From there, the class of 2014's spirit only increased. With matching, if not better, performances in the subsequent Spirit Weeks, the girls only reinforced their label as a spirited bunch.
Now, as seniors, the class of 2014  has decided to adopt a new tradition: Scrunchie Thursday. This light-hearted tradition was suggested by senior Khalei McKown.
"It started in part with the  help of Mrs. Chase who openly mocked the scrunchie I was wearing during her class one Thursday. So I told her that I could get everyone wearing scrunchies."
With the help of  McKown's determination, the trend of scrunchies gained much popularity among the seniors. The girls broke out their metallic, neon, and leopard print scrunchies for the first time on Thursday September 5. Every Thursday has now been declared Scrunchie Thursday by the class of 2014. It's a fun way for the girls to exhibit their unity and spirit as a senior class.
View Comments (1)
About the Contributor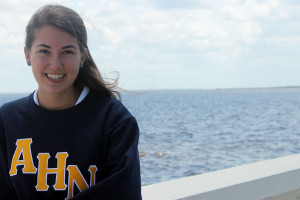 Sarah Elliott, Copy Editor
Academy senior Sarah Elliott has been a part of the Achona staff for two years now. Her hobbies include tennis and recreationally organizing anything....