Top five clothing stores that Academy girls shop at
With football games and birthday dinners approaching, the need to look good is becoming more frequent. Here is a list of the top five stores where you will most likely find another Academy girl looking for their next fashion accessory. We always have to represent Academy of the Holy names with the most stylish and classiest outfits, and these stores will provide just what you need!
1. The Look
2507 South MacDill Avenue, Tampa, Florida 33629
Just a few minutes away from the campus (on MacDill, across the street from Datz), The Look Boutique, has a perfect location for Academy girls. This boutique offers high end stylish clothes, for a reasonable price. The Look provides clothes for events such as Jesuit football games, or Junior Ring Ceremony.
2. Nordstrom
2223 N West Shore Blvd Ste 300, Tampa, Florida 33607
Nordstrom has everything a teenage girl could want. This store carries everything from running clothes to homecoming dresses. It is a popular place to buy Winter Formal or Homecoming dresses and shoes because of the elegant and young style. Along with Saint Laurent, Alexander McQueen, and Valentino. The Academy girl trademark, Tori Burch shoes, can also be purchased at Nordstrom.
3. Victoria's Secret
308 West Shore Plaza, Tampa, FL 33609 at West Shore Mall
There is no better place to buy cute and comfortable swim and lounge wear than from Victoria's Secret's Pink Collection. According to Senior Lauren Ayers, "Victoria Secret sweatpants are perfect for hanging out with friends". Not only does this collection have every color and style imaginable, they have great deals! Even though we all might not look like the models, once we put on their outfits, we sure feel like them!
4. Forever 21
2223 North Westshore Blvd, Suite 2000, Tampa, FL at International Mall
Forever 21 appears a favorite amongst the money savvy shoppers. If you are ever in need of a trendy outfit, but don't want to spend too much, Forever 21 is the place to go! You can find almost anything you want at the two-story store in Wiregrass Mall. With the newly added "Activewear" line, you can also purchase fashionable workout clothes. The store is perfect for a cute date night outfit or a simple outfit to wear out to dinner.
5. Wanelo.com
Standing for "Want, Need, Love", this online store offers endless products. With all the studying and extracurricular activities, many girls don't have time to travel to the mall. This online store provides an opportunity to shop anytime you want. Senior Sydney Sinardi, a frequent user of the webiste, stated "Whenever I want to stand out at an event, Wanelo never disappoints!". You can see what products your friends liked on Wanelo or even  see what is popular throughout the world! This "store" is perfect for more stylish products that are not offered in chain stores.
Leave a Comment
About the Contributor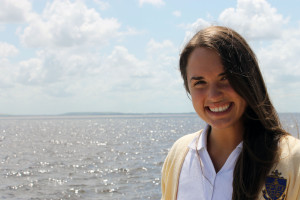 Hannah Hancock, Senior Staff Writer
Hannah Hancock has attended the Academy of the Holy Names for four years. She enjoys dancing, wakeboarding, cheerleading, tanning, and shopping. Hannah...