Your first Jesuit game: football, friends, and dancing
One of the most important events of freshman year is your first Jesuit football game. It might be one of the few exceptions to the "boys have cooties" rule we learned in elementary school. It's the precursor to Jesuit homecoming in a few months, and can dictate your future relationship with the Jesuit boys.
Before you starting worrying about how to get an entrance ticket for the game, you should know that they sell them at the gate for about $5. You can always ask around school and you should be able to find some girls with extra tickets willing to sell them to you. Now that you have your ticket, the next and probably most stressful and crucial step when getting ready for your first Jesuit game is deciding what to wear.
What you wear expresses so much about you. You want to make a good impression in the hopes of forming friendships or even finding a date to homecoming. So if you decided you don't want to try and go in sweatpants and a baggy t-shirt, you give off a negative vibe and might as well hold a sign that says "no school spirit, not interested". As Academy girls, our school spirit is off the charts, which extends to our brother school, so bring out that blue and white! Wear something simple such as white shorts with a dark blue tank top, blue jean shorts with a simple white v-neck, a Jesuit jersey if you have access to one, and don't forget to spice it up with wearing Jesuit school colored beads and accessories! You can even go so far as to paint a paw print on your cheek. After this long and stressful step, you can now move onto game day plans.
Everything is more fun when your friends are there, so it makes sense that you should go to the game with your friends. Having a sleepover on the night of a football game is probably the easiest way to go. This way you can get ready together, carpool, and you can spend the rest of the night gushing over what happened at the game. Since your plans are set for the night, now it comes to actually attending the event.
When you finally get to the game, don't just stand around with your friends, try to meet other people and expand your friend group! "I made a lot of friends." Senior Kristina Kennedy describes her experience at her first Jesuit game, "It was nice making friends who aren't from Academy." You can join in chanting cheers to support the players with the well known Blue Tide. Blue Tide is the group of hardcore Jesuit fans, they are one of the many exciting and spirit-filled parts of the football game. Participating with them, no matter if you're in the stands or on the ground, is an uplifting and enjoyable experience. When the game is officially over, don't leave just yet, there is more to come.
Don't forget about the back to school dance held after the game! It's held at Jesuit so you only have to walk a few meters before you can enjoy dancing with your friends to the loud booming music and strobe lights until the clock strikes midnight. There is a $5 cover charge, for the the dance, but it is well worth it. "The dance is really fun afterwards, it helped relieve some of the stress from school." Kristina explains. Even if you don't know any boys who go to Jesuit, it's still a fun atmosphere for you and your friends. And if you didn't meet boys at the game you have a second change during the back to school dance. Sophomore Sofia Curry says, "the dance was lots of fun, and a great way to introduce the freshmen and other underclassmen to the Jesuit game environment." Remember to keep it classy, you are representing Academy!
Check list:
-$5 ticket
– cute white and blue outfit
– plans with your friends
– meet boys
-cheer for Jesuit
– dance the night away
Have fun! Go Tigers!
Leave a Comment
About the Contributor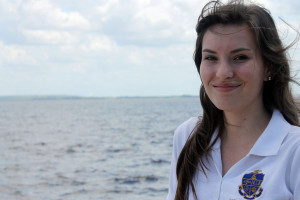 Megan Glogowski, Senior Staff Writer
When senior Megan Glogowski isn't writing an article for Achona, you
can usually find her laughing with her friends, fangirling over
musicians, and randomly...