Another exciting start for mission trips
The expanding student body of Academy coupled with the growing interest in mission work has led to the founding of AHN's sixth mission trip. Mrs. Pam Doherty and Mrs. Doreen Zelen from Admissions as well as Mrs. Emily Wise, Academy's Public Relations Director, will be leading 31 girls on a trip to North Carolina this coming spring. Their mission work will be centered in the community of Black Mountain, NC. Between refurbishing houses, helping at a children's center, and volunteering at a food bank, there will be plenty to keep the girls busy during their week of service.
Much like last year, the Potluck Dinner on Tuesday, October 22, was the perfect welcoming for this new trip. All missionaries for the 2014 trips gathered in Academy's chapel at 6:00 pm. A prayer service with readings from senior Miranda Lopez and junior Bailey Boesch kicked off the evening.
After the service, the girls split into their respective mission groups to enjoy an eclectic meal compiled by the missionaries and their families. The leaders of each trip took this time to share stories and advice regarding the upcoming mission experience. The annual Potluck Dinner was especially rewarding for many of the first time missionaries. Senior Mariah Diaz, who will be going to the Dominican Republic this spring, loved having the opportunity to hear from her trip's veterans. "The Potluck Dinner was the perfect beginning to the DR trip. We're all getting excited about going and can't wait to start our work."
While there is still much preparation, such as prayer services and fundraisers, ahead of Academy's 2014 missionaries, the Potluck Dinner was once again a successful way to start of mission trips.
Leave a Comment
About the Contributor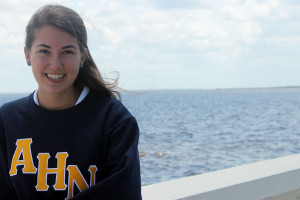 Sarah Elliott, Copy Editor
Academy senior Sarah Elliott has been a part of the Achona staff for two years now. Her hobbies include tennis and recreationally organizing anything....