Senior gives advice on college essays
Dear Juniors,
A lot of things go into applying for colleges; GPA, SAT or ACT test scores, in and out of school activities, and community service. The one part that makes the applicant an individual and can set them apart from the rest is the college essay.
The essays' requirements and prompts differ from school to school, but the one thing that you can count on being the same is the fact that you have to write about yourself.
Be yourself, that's one of the biggest pieces of advice college admissions officers or seniors can offer. The essay is your chance to show off your personality and let the college know you're more than just statistics on a piece of paper.
You are competing with thousands of other students who have similar GPAs and test scores, the essay allows you to separate yourself from the rest of the applicants. It is where you become an individual.
Quick Advice:
Don't put extra sophisticated words in your essay to make yourself sound smarter, the admissions officer can tell when you are trying too hard.

Have friends, parents, and siblings read and review your essay.

Don't wait until the last minute to write your essay, you don't want it to sound rushed.

Don't focus too much on the word limit, write as much as you deem fit.

Think about what makes you unique: whether it's being a military brat or not knowing how to ride a bike.

Edit! Don't think that your essay is perfect after the first time you write. You can always improve it.

Be able to let go when you reach the application deadline. You have to realize you've done your best, and you cannot do any more.

Don't try to be someone you're not.

Answer the essay prompt! Stay focused, and don't go off on a tangent.

Don't try to be funny or clever if it doesn't come to you naturally.
Not all colleges require an essay or writing supplement, but most do. Don't freak out over the essay, although it is a huge part of the application, it shouldn't cause you extreme levels of stress.
You can do it, believe in yourself and your writing. Although you have another year before you have to actually have to write your essay, it's never too early to become aware of what's ahead of you. Good luck with this year and  the next!
With much love,
A senior sister
View Comments (1)
About the Contributor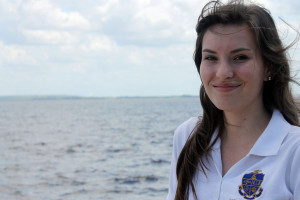 Megan Glogowski, Senior Staff Writer
When senior Megan Glogowski isn't writing an article for Achona, you
can usually find her laughing with her friends, fangirling over
musicians, and randomly...