Physics Day filled with velocity, acceleration and… Ooblec?
Physics Day at Busch Gardens 2013: A day where all Physics Junkies gather together to celebrate the "science of nature" in a real life setting.  For over a decade now, Physics Day has been a part of Busch Gardens theme park, allowing kids grades 6-12 to see real world applications of physics.
This year, freshman taking Conceptual Physics with Mrs. Kimberly Quire and AP Physics with Mrs. Judy Perrella had the opportunity to spend the entire day in the hub of speed, acceleration, and kinetic energy. Students were also accompanied by other Academy teachers: Ms. Megan Dubee, Ms. Devin Adams, Ms. Kerry Keegan, Mrs. Betsy Suskauer, and Ms. Erin Krukar.
The buses arrived at 8 a.m. for pick up at Academy and soon pulled up to the entrance of Busch Gardens. To make the most of this educational experience, the girls received packets from their teachers to fill in throughout the day. But no worries, the packets required riding rides and completing fun activities in order to get the answers.
Ms. Perrella thought the packets were perfect for what the girls were studying in class.
"The packets for the AP Physics students had calculations involving Montu, Shiekra, Cheetah Hunt, the Phoenix and the Ubanga Banga bumper cars because we're studying collisions."
Seniors like Emily Rodriguez rode on Montu and Cheetah Hunt to complete her packet.
"There was a g-force meter on Montu and we had to measure and record how high or low the g-force was at different points during the ride. Montu is my favorite ride – it was great."
In addition, there were several stations set up throughout the park that exhibited different science experiments for everyone to enjoy. Freshman Physics student, Kaia Floyd marveled at the creation at the station near Gwazi.
"My group stopped at one station near Gwazi to look at this stuff called Ooblec. Its made of corn starch and water. It was sitting in a large container and the workers were able to walk across it. It was so cool because when you don't apply much pressure to it you can walk through quickly. If you just stand there and apply pressure to one specific spot, it hardens. I wanted to walk through so bad!"
At the end of the day all of the students gathered in the Timbuktu Theater to listen to a Physics presentation.
Dr. David Wright, Professor of Physics at Tidewater Community College in Virginia, spoke to students about science topics in his high-energy, Physics in Motion show.
Freshman Rei-Anna Graves was proud to announce that Academy started 'the wave' at the show.
"It was so cool! Jenna Wiley started the wave in the theater and everyone joined in; but the presentation itself was basically about everything we covered in out packet –  velocity, acceleration, and some distance problems.  They also talked about how they create their roller coasters at Busch Gardens."
Despite a minor setback with the buses at the end of the day, students still returned to Academy at about 5 p.m. Within nine hours, girls had transformed from Physics students to Physics scholars.
Leave a Comment
About the Contributor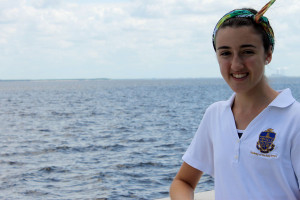 Gini Barreda, Features Editor
Although her strengths lie in writing and editing stories for Achona, she also specializes in Storify and photography. Gini is currently President of the...