Reconciliation spurs new thought processes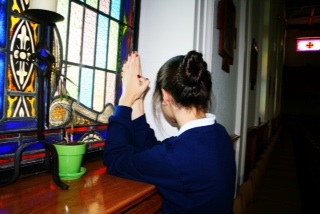 The sacrament of Reconciliation is an experience of forgiveness. Academy keeps this tradition alive each year by gathering the high school in the Brady Center for confession.
Regardless of religion, everyone joins to reflect on the past year. If you chose to, you may go up to one of the six priests and confess your sins. Confession serves as a way to sanctify grace in order to receive holy Communion at mass.
To start off, senior Theresa Lopez led the high school in a prayer, which set a cohesive and contemplative mood. Even though a single prayer is such a simple act, it reminds the students of the foundations of our school set by Blessed Marie Rose.
Row by row, students stood up and waited for their turn with a priest. While in line, each student thinks about their sins to confess. No talking was done at this point due to the intense reflection process each student is going through. The resolution to avoid committing these sins in the future is a sure sign that your sorrow is genuine and authentic.
Questions from Catholic Online's "A Guide to Confession" served as a great starting point for girls having a difficult time determining what to confess:
Have God and the pursuit of sanctity in Christ been the goal of my life? Have I denied my faith? Have I placed my trust in false teachings or substitutes for God? Did I despair of God's mercy?
Have I avoided the profane use of God's name in my speech? Have I broken a solemn vow or promise?
Have I honored every Sunday by avoiding unnecessary work, celebrating the Mass (also holidays)? Was I inattentive at, or unnecessarily late for Mass, or did I leave early? Have I neglected prayer for a long time?
Have I shown Christlike respect to parents, spouse, and family members, legitimate authorities? Have I been attentive to the religious education and formation of my children?
Have I cared for the bodily health and safety of myself and all others? Did I abuse drugs or alcohol? Have I supported in any way abortion, "mercy killing," or suicide?
Was I impatient, angry, envious, proud, jealous, revengeful, lazy? Have I forgiven others?
There is always a palpable difference in everyone throughout the Day of Reconciliation. Everyone, including the faculty and staff always carry a refreshed and renewed aura. The day is praised by the students, faculty, and staff for allowing them to pause and reflect. This reflection will allow for a more in depth confession to refresh their faith.
Sophomore Gracie Hancock explained,"I feel so lucky we are offered Reconciliation at school. It gives us time to stop our hectic lives and reflect on what we have achieved, and also what we can do better".
[nggallery id= 358]
Leave a Comment
About the Contributor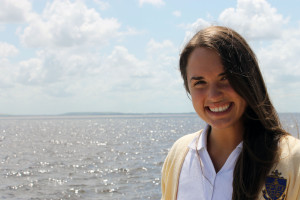 Hannah Hancock, Senior Staff Writer
Hannah Hancock has attended the Academy of the Holy Names for four years. She enjoys dancing, wakeboarding, cheerleading, tanning, and shopping. Hannah...