Art students are inspired after a trip to Ringling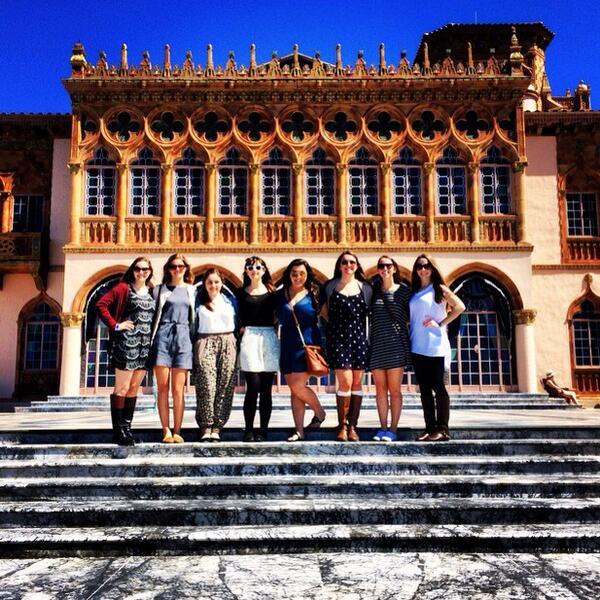 Students filled their blank canvases and cameras with inspiration after their annual field trip to the Ringling Museum on Friday, February 28. Art teacher, Mrs. Sharon West invited her AP Art History, Studio, Photography and Drawing classes to experience works collected by one of the notorious founders of the Ringling Brothers Barnum and Bailey Circus, John Ringling.
Students left from school and set off to the Sarasota Bay to enjoy the entire day on the property. The Art History students began their tour in the Baroque-inspired museum, admiring collections by Velazquez, El Greco, Van Dyke, Veronese, Tiepolo, Gainsborough, and Rubens. After, the girls enjoyed photo-ops in the Renaissance style courtyard outside of the museum, complete with a lovely replica of Michelangelo's David Statue.
Mabel Ringling's Rose Garden and the Secret Garden was a perfect place for art enthusiasts, as they experienced how nature and man-made creations could be intertwined to for a spectacular experience. This was not far from John and Mabel's grand Mansion, with a gorgeous view of Sarasota Bay. This home contains over 50 rooms and stands as a testament to the American Dream of the Roaring Twenties. Visitors were able to get a taste of the Venetian Gothic style home as they were able to walk-through in an accompanied tour.
The trip ended with a walk back to the buses parked next to the Asolo Repertory Theater. Students enjoyed an incredible day at Ringling filled with inspiration to begin their next project.