MAPS lead students to future careers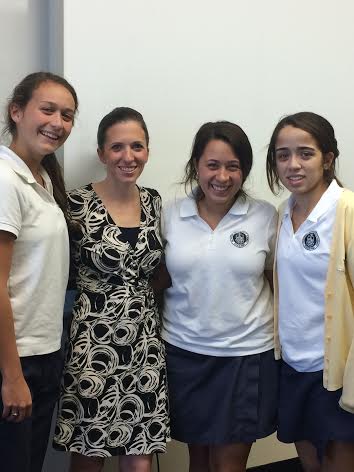 Mentoring Alumni Partnering with Students (MAPS) is a club where Academy of the Holy Names girls get together to experience opportunities from the alumni. This club was started up last year by the Board of Trustees and the Advancement office to help start new opportunities for the girls.
This year MAPS has decided to make the club more reachable. MAPS is now streamlining the shadowing throughout the year and during summer. This club encourages getting as many Academy girls to join and be involved with this great opportunity. All MAPS members should be telling their friends and acquaintances about the different shadowing
and lecture days.
Recently, MAPS hosted an infectious disease nurse, Jennifer Bush (A '00) who shared stories and insight on what her job entails. It was a well-informed experience for girls interested in health care, especially because current patient protection laws do not allow job shadowing of nurses.
On November 20, Ashley Arena, lawyer, will be here to talk to the girls as well about her interesting court cases. On December 4, Vivian Mauro, court translator, will be visiting to talk about her everyday court experiences.
MAPS president, Danielle Orr shares, "I hope that each student in the high school have the ability to learn more about their perspective work fields or become knowledgeable on the different jobs and the background information that pertain to it. I hope to achieve this through the Alumni speakers and girls having a variety of shadowing opportunities."
She proclaims, "I'm excited about how excited the girls, both in and out of the club, are. I've heard a lot of positive feedback on the opportunities MAPS offers and I can not wait to see how big this club can become."
If anyone has questions, or is interested in MAPS you can see the following officers:
Alexis Ercia
Danielle Orr
Tiffany Reyes