Seniors share their last memories of "The Mission of Fun"
During Mini-Course week there is one special mission trip: The Mission of Fun. It consists of a visit to Disney's Hollywood Studios, Epcot, Magic Kingdom and Downtown Disney. Everyone always has a fun-filled, magical time thanks to History teacher Lori Kearney's hard work, and many great memories to share. It is especially poignant for seniors, as this is their last time attending the trip.
"When we were at Epcot, Tiffany, Kate, Claudia, Madison and I were traveling around the world. After passing through Mexico, we went to Norway and saw a cute Norwegian worker at a kids' coloring station so we decided to sit down with him and color. Unfortunately, his shift ended while we were drawing and he walked away. We continued coloring and soon found out that you could go to all the different countries and get a stamp and a drawing from each country if you had a cardboard Duffy on a stick. It was a lot of fun going to the different countries and getting to talk to all the different workers and hear their accents!" -Kelly Lambert, Senior

Image courtesy of Kelly Lambert

"It was so weird to see how much everything has changed and updated since I was there when I was little. It was easy to spot the differences. I also thought that it was so neat how much the cast members' uniforms changed within the parks." -Danielle Orr, Senior
"While in Epcot, Kelly, Kate, Madison, Claudia, and I went through the different countries. At the beginning, I thought that all the workers were just from the local area and were assigned countries to work at. When we got to the United Kingdom, we went to get our Duffy stamped and the worker was really cute so we started talking to him. He told us that he was sad because he had to go back to England in a few days. I asked why he had to go back and he told us that he was part of a Disney program that allowed foreigners to get a visa for a year, and requires them to return to their home country for 6 months. I thought this was really cool because it gave Epcot an authentic feel, and it helped me understand how Epcot gets people from different countries to work for them." -Tiffany Reyes, Senior

Image courtesy of Tiffany Reyes

"I was playing Legos at the Lego store with Courtney and Danielle and my Starbucks barista from my Starbucks in Tampa, Danny, came up next to me. We awkwardly hugged and he told me that it was his son's birthday and that he and his wife are going on a vacation and then we said goodbye. It was so random but funny!" -Madison Hershiser, Senior
"The line for Space Mountain was 90 minutes long so Natalie, Jessica and I played heads up with one of our phones. Sometimes random people would join in and make it even harder because so many people were screaming at me at once. It was a lot of fun and made the line go so much quicker." -Lexi Nieto, Senior
"I also went on the Epcot trip freshman year and that had been my first time visiting all of the parks. It was a crazy feeling watching the fireworks over Cinderella's castle this year because it was marking the end of my senior year. I watched those same fireworks when I was still getting my high school career started, and I got to see them for a second time when I was finishing my high school years. It really made me see how time flies." -Jessica Jurado, Senior
"Last time I was at Disney the food was awful. This time around, I was delightfully surprised at how good everything I ate was. The food is way better now and definitely worth the price!" -Claudia Montilla, Senior
"When we were watching the American Adventure show, there was a bat flying around the theatre. It was so scary because I thought it was gonna land on me. After that, for the rest of the trip, birds kept following us and attacking us!" -Trysten Flechas, Senior
"I was in line for Test Track in Epcot when I got an email from NYU. I didn't expect it to be a decision because online it said they came out on March 30th, and it was only the 11th. I opened the email, and it said I had been accepted! I freaked out and started crying, and when I kept reading it also said I had received a full-tuition scholarship! Everyone around me in line was so nice about it, and it really made the trip so much more magical." -Sofia Gonzalez, Senior
"When we were at Hollywood Studios we were sitting at a picnic table before a check in playing heads up on the phone. The topic was dance moves. Everyone was screaming and running around doing different dance moves. The people around us were staring at us and laughing. It was hilarious!" -Carly King, Senior
About the Contributor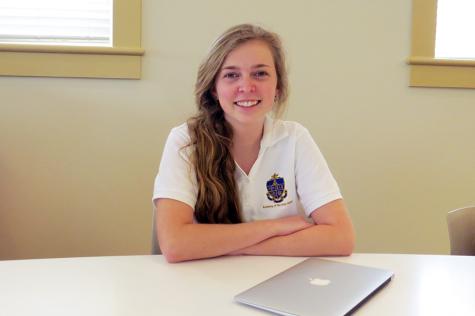 Kate Huete, Senior Staff Writer
Hey, I'm Kate. I'm a senior at Academy and a senior staff writer for Achona. I enjoy writing for Achona and photography. I mostly cover current events...