Academy girls have mixed reactions to new emojis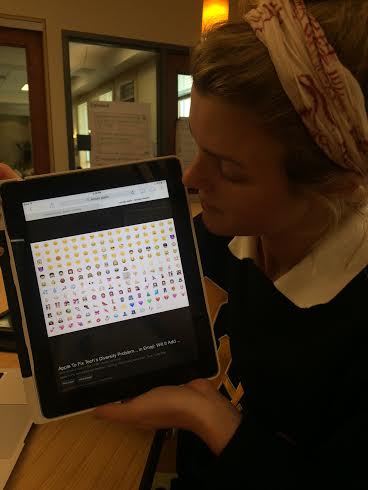 Apple recently released a new keyboard of emojis with the most recentIOS update. The new keyboard includes emjois with customizable skin colors, in order to promote diversity with racial inclusion. There have been mixed reactions the new emojis, including some positive and some surprisingly negative ones. The Huffington Post wrote an article, discussing some of the drawbacks that have resulted from the emoji update including how "many people are using the multicultural emoji to refer to race, and in the worst ways possible" in order to discriminate with emojis. The layout of the emoji keyboard is changed but instead of creating all new emojis, many emojis are now available in different shades of skin colors if you hold down on the image.
Some girls have chosen to not update their phone in order to avoid the new keyboard, like senior Siobhan Lynch. She told Achona staff, "I refused to update my phone once I saw the new emojis because I don't want my keyboard to change, especially because the default emojis are now yellow". Others love the new emojis because it gives an opportunity for a wider variety of options to type.
Do you like the new emoji update or the old keyboard better? Click here to vote!