AHN Water Wars 2015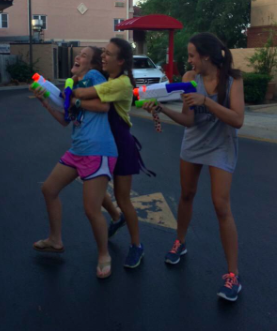 Water Wars. It is a dangerous game. You are always on edge, your heart is constantly pounding out of your chest and the paranoia is at an all time high. This "war" brings out the savage in everyone; it tears friendships apart and nothing is ever the same.
Water Wars is a game that is traditionally played by high school seniors, and the whole idea is to simply eliminate other players from the game  by use of water. The way Academy girls play is each homeroom makes up a team that consists of about twenty girls, where they make team names, t-shirts, and devise plans and work out strategies to essentially reach one unanimous goal: WIN THE WAR. Each year the class playing makes up their own rules and sets their own precedents for the up and coming years.
The Class of 2015's Rules and Regulations: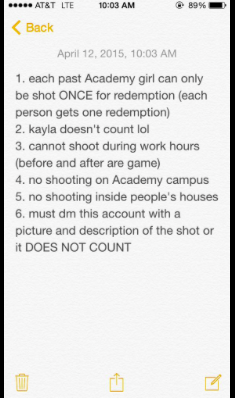 Four teams were up to the challenge this year (it's not like they had choice):
H2Woes
Make it Nasty
Wet n' Wild
Runnin thru the 6 with my Hose
Academy girls are smart and scary, which makes this game very difficult to play. You win by being sneaky and manipulative, and no matter how safe you think you are… YOU'RE NOT. Girls pop of out bushes outside of church, jump out of car trunks and hunt down girls in drive-thru lanes; it is a war zone. If you are within at least 100 feet of an Academy girl with a water gun, no matter who are, you were officially standing the splash zone.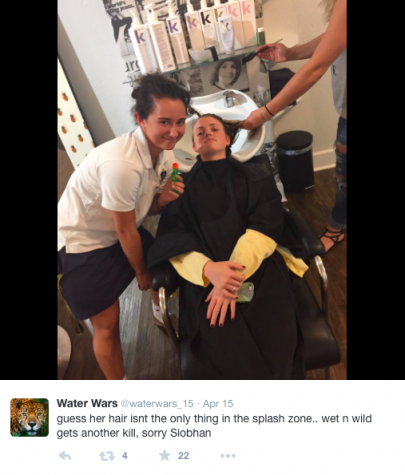 Senior Kierstin Mayor comments, "Water Wars was hands down the most stressful week of my entire senior year, and to this day I still keep all my waters guns in my trunk because I'm still so paranoid that someone is going to pop out nowhere and shoot me down."
So as Water Wars Week came to an end and all the "kills" and "redemptions" were tallied, Wet n' Wild were officially named the 2015 Water Wars Champions.
Congrats Girls! And to all the rising seniors out there who have yet play… "May the odds be ever in your favor."