Class of 2015- Running through the halls
Thursday April 30, 2015, was the last day of high school for the Academy class of 2015, and it was one to remember. The girls started their day bright and early to set up for the annual senior prank day, their theme being the Military Academy. The girls decorated the school in camouflage colors and even added a comedic touch by taping on the walls, hilarious pictures of the underclassman. The day was filled with laughter and tears, and ended with one last run through the school with the classmates they would forever call their sisters. The girls started in front of the sophomore locker room on the fourth floor, and ended across the bridge in the pool. The freshmen, sophomore, and junior classes lined up along the walls to applaud the seniors for their success over the past four years. The junior class is the next to endure on this journey and Jeanine Ramriez exclaims "It's really exciting and it's something we've been look forward to since freshman year." The Achona staff would like to congratulate the seniors on all their accomplishments, and wish them the best for the years to come!
About the Contributor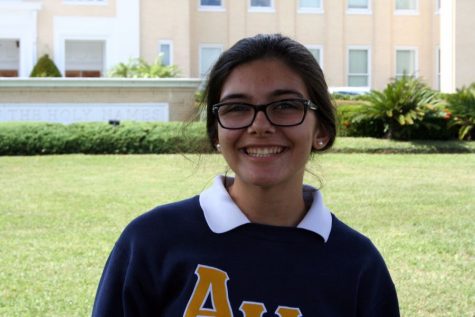 Vanessa Alvarez, Editor-in-Chief
Vanessa Alvarez is a third year member of Achona and one of four Editors-in-Chief, as well as Co-President of the Teen Leadership Council. Within the Academy...