Homecoming Proposals: Easier Said Than Done
Homecoming is one of the most spirited times in the school year where students, families, and alumni come together to celebrate their high school. This occasion is denoted with festivities such as football games and pep rallies. The highlight feature during this special season, however, is the Homecoming dance.
It is always a fun experience  to get asked to homecoming. Homecoming proposals can range from being really simple to being super extravagant and creative. Girls at Academy have seen it all; but a few proposals really stand out this year. Senior, Zoe Bennett got asked by her boyfriend taking her to see a movie at a drive-in movie theater. He told her to get something out of the trunk of the car, and there she saw a big sign saying "Homecoming?" "He spent two months trying to plan this whole thing out and trying to find ideas. He finally came up with the idea because he knows I love movies so much, so he thought it would have been a great fit," recalls Bennett.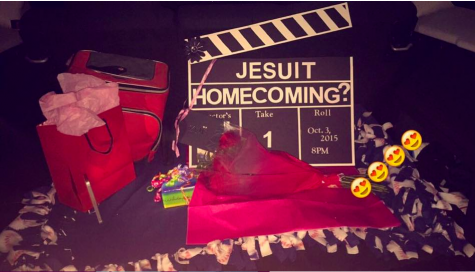 Lexi Diez, junior, also was asked to Homecoming in a creative way this year by Tommy Chadwick. Tommy decided that he was going to rap a song for his homecoming proposal. He showed up at Academy after school last week, where he performed in the parking lot. Lexi commented, "I was laughing so hard because it was so funny and cute and I was really happy that he went through so much trouble."  Tommy had Lexi's friends help out with the plan. Ashley Lambert told Lexi a story about how they needed to stay a few minutes after school to find her water bottle, and Lexi thought nothing of it. She was completely surprised when Tommy asked her.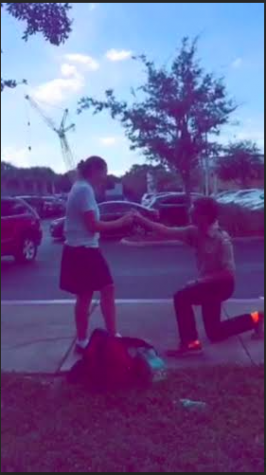 On the other hand, some homecoming proposals are really simple and spontaneous. Junior, Riley Rubio was asked to homecoming in a group chat, titled "Homecoming",  along with two of her friends. "I was excited to get asked, but it was funny because we didn't reply to the boys for two hours after they asked us, which made them so uncomfortable", added Riley. Riley was happy with a text because she felt that it wasn't necessary to do anything special.
In addition, Kendall Bulleit, junior, recalls that her homecoming proposal was completely impromptu. She was having a family dinner at her house with her boyfriend, Myles Hahn, when her mom brought up homecoming. This inspired Myles to take a marker and write "HC?" on an empty pizza box right in front of Kendall because he hadn't asked her yet. "I was laughing so hard because I knew that he was doing this totally on a whim, but I loved it," recalls Kendall.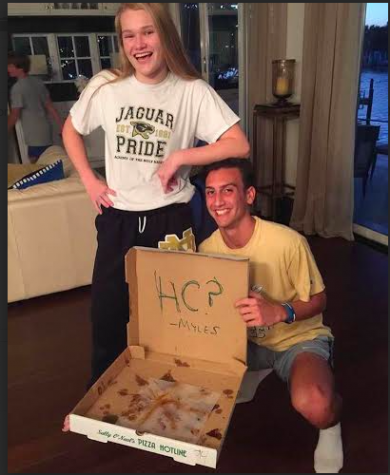 Whether you get asked in an elaborate way or a really simple way, going to homecoming is always exciting. It is a night filled with new friendships and memories that will never be forgotten.