Macbooks or iPads??
The 2015- 2016 year brings on new many new things; new classes, new schedules, new school supplies, new memories and even new friends. This year the Academy has announced  that each student will be given their own Macbook Air, an 11 inch model  (the teachers were given a 13 inch model). Along with their iPads, it will be used as a tool for learning in this technology based modern era.
As a result the first two weeks of the school year has already been filled with positive feedback has been given from students about their new gadget. Often, students have been finding themselves seldom using their once holy grail school device, their iPad, and reasons vary.
Upperclassmen who have owned their iPad for two to three years have found that their devices are slowing down a bit and in general, are a bit dated.  Could it be that some are just excited about their new Macbook that they forget about their iPad? Junior, Kate Scanlan comments, "my favorite part about the school macbook is having a computer that works really well because my laptop at home is seven years old and is very slow. I also like how light and easy it is [to use]."Juniors, Abby Morris and Ciara Chappell, also prefer a MacBook to an iPad because, " they're easier to navigate due to the more efficient keyboards for note taking and essay writing."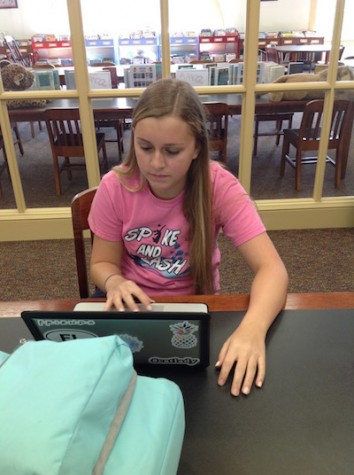 However, there are still students who love their good, old iPad. Maybe due to their compact size and easy access effect of just pushing a button to turn it on? Junior, Ally Pazzi believes that on the iPad, " the battery lasts longer." She continues on to say that, " the iPad is not as bulky as a Macbook." Junior,Teresa Toranzo says, "i would rather use an iPad to take notes because of the convenient Notability app." Notability is known as an essential app for tech- forward students. It gives a person the ability to take notes ( and use highlighters, different fonts, etc), make colorful tabs for different subjects, audio record information, and with the featured pen and paper mentality- it is used for even artists and graphic designers.
In closing, Mrs. Deborah Collins, head of high school IT support at the school, gives her opinions on the Academy's set of technology. She explains, "we also rolled out school wide access to Lynda.com so students can learn at any time of the day specific feature of Pages, Keynote or Numbers, along with all the other videos they can access. It's a great source of videos for all types of learning." When asked if she preferred her Macbook to her iPad she answered, "I like both platforms for different reasons  and the ability to use both to do my job more effectively.  Having the Apple ecosystem available to work seamlessly between devices supports the curriculum goals."   
About the Writer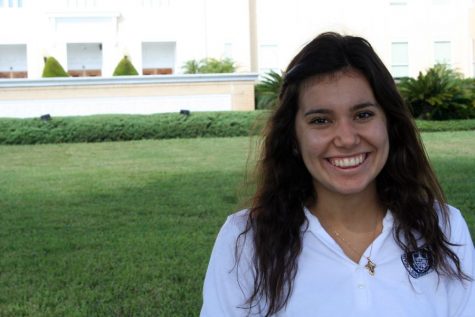 Sophia Bahr, Arts and Entertainment Editor
Sophia Bahr is the ACHONA's Arts and Entertainment editor and an Academy senior. This is her second year on the ACHONA staff. After school Bahr can be...