Senior Study Hall
The senior class has been given the privilege to go anywhere they would like, within the gates of the school property, during their study hall. This is a new addition to the many perks Academy girls receive once they become seniors. Throughout the day, you can find seniors all over the school. Whether it's in the senior lounge or sitting in the court yard, these girls take advantage of this opportunity to study in a quiet, comfortable environment.
Senior Hadley Chillura loves the new policy and says it's "nice to get out of a classroom setting to do my work!" Hadley, along with many other seniors, agree that the senior lounge is "the place to be" during study hall.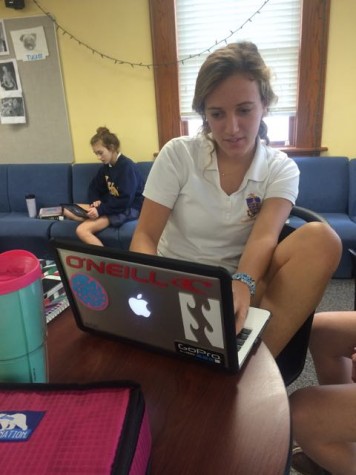 Located on the second floor foyer, Jayne McLaughlin enjoys relaxing on the couches while getting her work done. "Once study hall ends,I like how it is right next to the stairs so I can get to class quickly!"
The library has always been the "get away" place for seniors to relax and complete their assignments. This is still the case, and senior Avery Dierks loves how in the library she can push couches together and get work done. "I rush down to check in with my study hall teacher, then I race up to the library and try to get a good spot."
Seniors have been waiting for the fall to come around so that they can take their study hall outdoors. Girls have been dying to get outside and enjoy that beautiful fall weather!
Although the senior lounge seems to be the most popular spot for study hall, some girls find it difficult to concentrate if there is a large group in there all at once. Senior Avery Stanechewski points out that she has many people in her study hall so the lounge can "get quite loud which is why the guidance office and/or the kitchen are a nice alternative."
Having the ability to chose where they can go during study hall is a senior privilege that the Class of 2016 loves and hope will continue for future senior classes!