Summer Reading Book Reviews: Critiquing the Classics
The hectic energy that accompanies the beginning of the school year has subsided, and the classes, old and new, have settled into a routine. Now that students have discussed their summer reading books in their various English classes, ACHONA asked a couple of Academy girls what their thoughts on the novels were, and here is what they shared: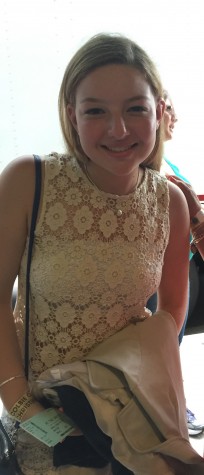 As one of Mrs. Anderson's CP English freshman, Annabella Ebsworth-Llavona spent a portion of her summer break pouring through the pages of To Kill a Mockingbird and The Summer of My German Soldier. Although she overall enjoyed the story of To Kill a Mockingbird, Annabella found it to be a little dense and hard to follow at times. As a suggestion to maximize students' reading comprehension, Annabella says, "Maybe we could read it as a class, so the teacher can cue you in" during critical points in the novel. On the flip side, Annabella reports, "The Summer of My German Soldier was a well written and entertaining book." She describes it as "adventurous, sad, and full of self-discovery". Annabella would like to see more books in the drama and comedy genres make the reading list next year. She agrees that even radically popular books like The Fault in Our Stars and The Hunger Games could earn a place on a high school reading list. "They also have valuable information that could apply academically" she says.
Charlotte Carl is a Freshman in Mrs. LeBlanc's Honors English I class who read their two required books, Animal Farm and Lord of the Flies. Although Carl recognizes both books as important reads for incoming freshman, she personally ranks Animal Farm above Lord of the Flies. She says, "I thought Animal Farm was cool because it was relating to an issue that we have knowledge about. The whole plot line was interesting." Carl said she would opt for a nice balance of modern novels and classics in summers to come, while staying in the realm of fiction. "I definitely find fiction more interesting." she says. Carl suggests maybe even putting a romance novel on the list. Even as her friends chuckle at the suggestion, Carl defends her claim asserting, "We can relate to it more!" Although Carl can't put a finger on exactly why these books were chosen, she recognizes a pattern in high school reading lists. "My parents read the same books when they were in high school!"
Gillian Garcia comments on how she preferred And Then There Were None over Secret Life of Bees because "it kept you on your toes and the author [Agatha Christie] did a really good job of foreshadowing." Although she's not usually a mystery genre type of girl, she admits that this book grabbed her attention. She suggests that perhaps Mrs. Nutter picked this book for the reading list because it would hopefully have the same engaging, page turning effect on people who are maybe opposed to reading. "I think because it was such a good book she thinks that we'd actually read it" she considers. Garcia can also appreciate Mrs. Nutter's choice of Secret Life of Bees. She shares that it's a useful read for the new sophomores. "It's the first book stepping into English II Honors and it has a lot of literary devices in it" Garcia shares,  "Even though I hate classics, I think we should read them because it's kind of a school thing. I'm never going to read classics in my free time."
Junior and English III honors student Alexis Miniet dedicated a portion of her summer break to exploring the novels The Handmaid's Tale and A Raisin in the Sun. Alexis adopted The Handmaid's Tale as one of her many favorite futuristic novels like The Hunger Games and Divergent. She especially appreciated the vivid characters who really moved the story along. "I liked one of the characters; her name was Moira. She was a bad a-s-s." Miniet also appreciated The Handmaid's Tale because  she states, "it really makes you believe in women's rights". Next year Alexis would like to see classics like The Scarlet Letter on the reading list because she is more likely to be invested in a book with a strong female protagonist.
Lexi Diez, a junior and AP Lang student, liked this year's summer reading books overall, but God Help the Child was her favorite despite being slightly disappointed by its cliffhanger ending. She explains, "You kind of had to make your own ending which some people like and some people don't". Diez appreciated Dr. O's choice of novel because "It's good to see a different type of writing than we normally see. This book had twists in it you wouldn't expect." Diez would like to see more mystery or modern novels on the reading list for next year. "They have topics that just grab you!" she asserts. Lexi feels lucky that the required reading list for Academy is primarily fiction. "I think it's pretty awesome." she says. "We got to read Grendel which is about a creature and a spin off from another book! It was hilarious. So good."