Academy honors our Veterans
Academy of the Holy Names honored our United States veterans with a special ceremony on November 11. Throughout the service, students and teachers alike heard recitations of historic letters from active members to their family, an original poem read by Jeanine Ramirez, a recitation by Patricia Sandoval of JFK's address to the nation which promoted peace after a long history of war, a personal experience from Vivian Cunningham., a WWII vet, and followed along as the Quarter Notes led the assembly in patriotic songs such as the "Star Spangled Banner" and "God Bless the USA".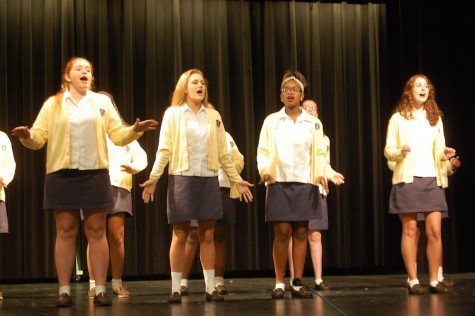 In Mrs. Cunningham's speech, the former WAVES member talked about the Honor Flight Program, a program that paid for her to visit the memorials in Washington DC. This year, Jenna Wiley has taken a special interest in the program.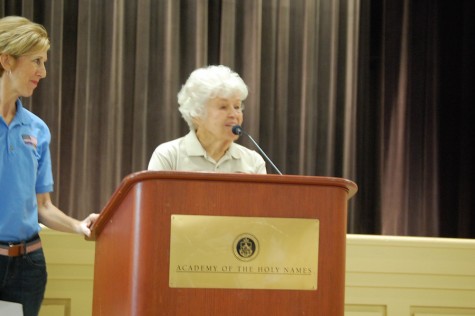 When asked why the Honor Flight Program was so important to her, she commented "it is a very important project to me because of the meaning behind it. I watched this TED Talk by Wes Moore about a year and a half ago and it's about how "Thank you for your service" means so much beyond those simple words. Often, when we see military men and women we may thank them for their service – meaning the way they fought overseas. What many people don't realize is that the war doesn't stop just because they have stopped back onto American soil."
Jenna, known for her patriotism by her friends and family, wanted to support the program to thank the veterans for "more than just their service."
Jenna also encourages her fellow classmates to aid the cause by purchasing "DUDE. Be Nice" shirts. The money raised by the sale of the shirts will be donated to the program to pay for expenses.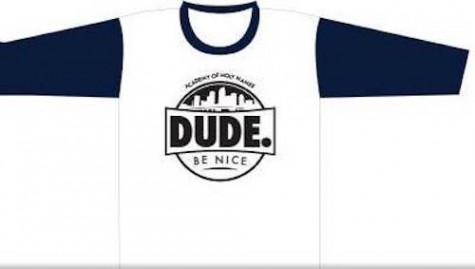 By purchasing a shirt, Jenna hopes that the girls of Academy can "say their thanks to the men and women who served" in a way that is more lasting and meaningful to the veterans.
Is there any better way to say "thank you" then by sending them to a beautiful memorial honoring them?