Academy's favorite movies
Moulin Rouge!

, recommended by freshman Adrianna Radice, starring

Nicole Kidman

, country singer

Keith Urban's

wife, and

Star Wars

actor

Ewan McGregor

(Obi-Wan Kenobi). The film takes place in the year 1899 and follows a young writer, Christian, who aspires to be a Bohemian poet.
Radice exclaims "I love the way it's filmed, it's filmed in a very artsy kind of way in 1899."
Christian finds himself involved in the Persian nightclub, Moulin Rouge, where he meets the star of the club, Satine. After being released in 2001, the film has received various awards including an MTV Movie Award for Musical Sequence, a Golden Globe for Best Motion Picture in a Comedy or Musical, and a BAFTA Award for Best Film Music.
Radice, an avid movie watcher, claims "it uses modern music in a musical style, kind of like broadway but it isn't a play."
In addition, "it's very mature and kind of like a chick flick."
Moulin Rouge! is available for viewing on Amazon and Youtube.
Pulp Fiction

is a crime film recommended by junior Teresa Toranzo. The film debuts  

Grease

star

John Travolta

, actress

Uma Thurman

, and Star Wars actor

Samuel L. Jackson

. The Oscar award winning movie is about two hitmen (Travolta and Jackson) who are out to find a stolen case.
Toranzo highly recommends this to everyone who can "handle bloody violence" and exclaims this movie is her favorite because "It encompasses everything: comedy, drama and even romance. This movie is so well written and the actors do such a good job conveying each scene. Also, this movie is filmed out of order so it isn't until the last few scenes where it all comes together. My favorite sequence is the Mia and Vincent segment because it's extremely entertaining and has amazing lines."
The film is available for viewing on Netflix, Showtime, and Youtube.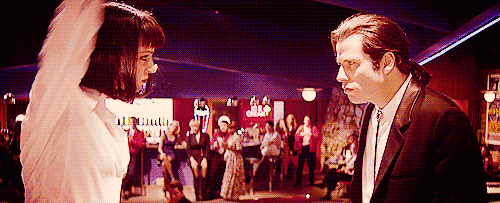 The Lion King

is a more classic, family oriented film recommended by Sophomore Lindsay Ulbricht. The film, which was released in 1994, emcompases the life of Simba, a newborn lion who becomes first in line for the throne. Simba's uncle, Scar, was originally first in line for the throne, and is not pleased with the fact he is now second. In the film, Scar makes it his mission to steal the throne and take all the power. The message conveyed is Ulbricht's favorite part of the

Disney

classic.
The sophomore recommends this movie to, "children and families."
The Lion King is unfortunately not available for streaming, however, it is available to rent through Netflix on DVD.
10 Things I Hate About You

, recommended by junior Grace Neal, is a film about a rebellious high school girl and her older sister who have a very strict father. The main character, Kat (

Julia Stiles

), loves to go against social norms, and as a result, her sister, Bianca (

Larisa Oleynik

), isn't allowed to do many thing. Her father always tells Bianca she can't do anything unless Kat is doing it, which means Bianca is unable to do things she wants, including dating and going to dances. Everything changes, however, when three boys named Cameron (

Joseph Gordon-Levitt

), Michael (

David Krumholtz

), and Joey (

Andrew Keegan

) plot to get the rebellious Patrick (

Heath Ledger

) to go out with Kat.
Neal loves the movie because, "It's so cute and it makes me so happy everytime I watch it. It's not like a normal chick flick because the characters are rougher. I also feel like it addresses a lot of issues like how you don't have to fit in with what everyone wants you to do."
The junior recommends the film to people of all ages and genders. The film is available on Amazon, iTunes, and Youtube.
Spanglish,

starring

Adam Sandler

, was recommended by freshman Maria Almendares. The movie tells the story of a Mexican woman who becomes a housekeeper for an American family. When she is put in charge of the children, heads clash due to cultural differences when it comes to raising them.
Almendares exclaims she loves the movie because, "It sets the American dream that Hispanic people have. I'm able to relate to two of the characters a lot. Reason being, the girl's mom pressures her to always behave and to keep things to herself. Also, the woman that she works for, her daughter is always pressured by her mom to exercise and do stuff she doesn't really like, and I relate to that a lot."
The freshman recommends this movie to an audience that enjoys seeing the reality of things in films. Spanglish is available on Amazon and iTunes.