Backstage of "Bye Bye Birdie"
Everyone enjoyed our schools spring musical production of Bye Bye Birdie.
It was "funny, entertaining, and a sensational performance," comments senior Skyler Sinardi.
However, what the audience doesn't know are the pressures and dramas backstage of the performance.
If you have ever been backstage of the Academy stage you know there is not a lot of space back there, so you can imagine how the close quarters would create pressure.
Senior Emilie Ulbricht says that being backstage is "crazy especially since we don't have a lot of room. We have to improvise a lot to work with the space, and when performers are sitting backstage they help load stuff on the stage in between scenes."
Also, senior Ruby Knopik says it was "pretty hectic with people running around and no one seemed to know what was going on."
Although it was stressful senior Paula Hernandez says, " it was also really fulfilling every time the show finished and we did a good job."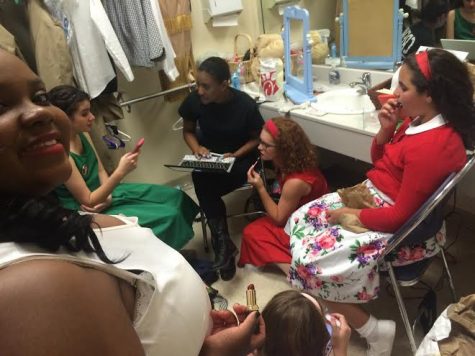 Along  with all the stresses of backstage, there have also been some funny moments that have occurred.
Senior Ruby Knopik said one of the funniest things that happened was when, "Paula was moving props on stage and caught stuck hiding behind one for an entire scene because she couldn't get off stage fast enough before the curtain opened."
Who would have known?
Paula Hernandez recalls another funny moment, which was her "dropping a platform on my foot and then sticking it in the ice bucket prop during intermission."
All the cast also hid a surprise for Director, Vivian Kimbler, backstage that they planned to give to her at the end of their last show.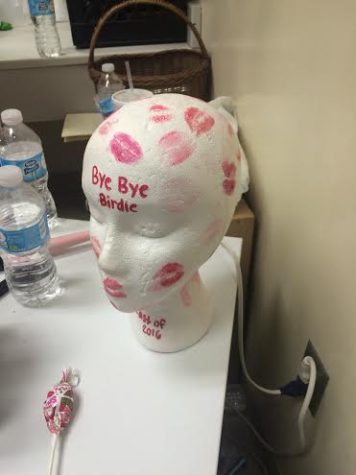 Although a lot went on backstage and there was a lot going on, all the cast members said it was a great bonding experience and in the end it was so fulfilling.
https://www.instagram.com/p/BETlgrxglfa/