How to survive the 4th quarter: Tips from the seniors
As the school year comes to a close, it's near impossible to stay motivated for school. You begin to think about how much more you like your sleep and sanity than good grades, but you must stay strong!! As seniors we have survived the "fourth quarter slack" three times, and we are ready to knock out our fourth and last high school quarter. When asking some of the most motivated girls in our grade their tips and tricks, I learned it may not be as hard as you think it is to try your best for a full 180 days of school.
Almost everyone agreed that sleep is your best friend when it comes to surviving the school year.
If 8 hours of sleep is unrealistic for you then coffee will be your best friend. Senior Remi Storch says " I can't go a day without coffee, no matter how much sleep I get the night before, it gets me through the school day".
Keep your planner organized: make lists of what you need to accomplish every night and check it off once you complete it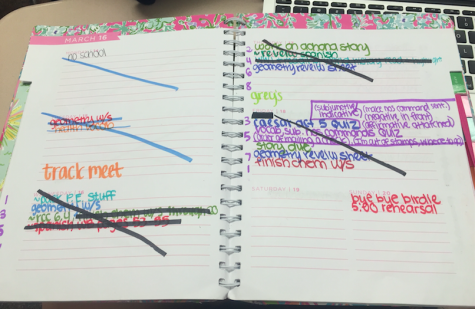 And last but definitely not least.. make sure to reward yourself whether it's just watching an episode of your favorite Netflix show or a bowl of ice cream treat yourself because you deserve it! Senior Skyler Sinardi says " I love to give myself ten M&Ms after I finish each of my homework assignments".
No matter how hard or stressful this school year may seem, just know that all of your hard work will pay off in the long run. Senior's are living proof that if you set your goals and work to the best of your ability, you will go far in life!