Class of 2017- Not So Jr. Anymore
As the current seniors are going through pre-graduation traditions and ceremonies, the junior class is faced with the stark reality that they will be taking their place as the leaders of the school in just a few months. For many, this fact comes with feelings of nostalgia, for it commences the last year with their Academy sisters and faculty.
Here's what the juniors have to say about becoming seniors next year.
"I've been at this school for the last 12 years and honestly I'm really scared to go anywhere else." -Gabbie Ragano
"College applications… I'm afraid that the applications combined with the classes I'm taking and homework are going to be overwhelming. We've been told that the applications themselves are their own class- that's terrifying." -Abby Morris
"As a captain on the swim team next year, I'm worried that I won't live up to the expectations made by the the previous seniors. We are losing a lot of great swimmers." -Lara Lontoc
"The thought of applying to college just makes me really anxious, not necessarily scared." -Rachel Tata
"I know I'm going to be so sad about having to leave my mom." -Karianne Buser
"I'm really worried about taking good senior pictures… my sister's DID NOT come out so great." -Maria Cacciatore
"Tripping at graduation." -Laura Henry
"I'm scared that the year is going to go by so fast- in the blink of an eye." -Olivia Porcaro
"I'm really nervous about making my essays enjoyable to read and writing them like Ms. Keegan wants them to be." -Liz Benjamin
"I want to go to a private school so I have to start thinking about money and applying for scholarships." -Jenna Wiley
"I'm planning on going to college with funding from the military so the thought of having to join afterwards is scary. The military is scary." -Anne Marie Yatsula
"Literally all of being a senior. Also I have to be responsible for Excursions!" -Mary Kate Magyar
"I'm going to be one of the seniors on Theater Club, and I feel that since the seniors this year took a lot of responsibility for the freshmen and sophomores, I will have to do the same and step up to the plate." -Jhuztin Honrado
"I'm not scared of anything… y'all seem like nice people" -Caitlyn Chandler (A senior who will be new to Academy next year)
About the Contributor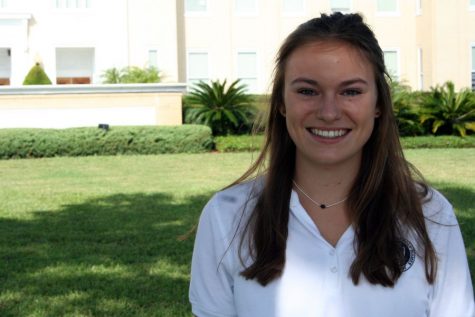 Nicole Browne, Editor-In-Chief
Nicole Browne is a second year staffer, senior Editor-in-Chief of Academy's Online Newspaper. When not spending her time at crew practice and regattas,...