Oh, The Places She'll Go
As the end of senior year nears, the class of 2016 are making their final decision on where they will be attending college in the fall. The seniors had to make decisions among multiple college acceptances, and sat numerous hours wondering how they can be sure they are making the right choice. It is no small decision, this selection will affect the course of their next four years academically, professionally and socially.
Senior Alexis Markines, who will be attending Florida Gulf Coast University, shared, "At first I was like 75% on just because even though it felt like the school for me, I was afraid of having no one. But now I'm 100% because I'll have two of my sisters, Camille Yodzis and Jackie Joyce, by my side and I am ready for four more years with them."
Senior Emilie Ulbricht, " Enrolling at Belmont and being a part of Nashville is something I've always wanted and something I am very happy I did. I feel 100% confident in my decision and it's comforting knowing my best friend is only 3 hours away."
Next year, the class of 2016 will leave their home on Bayshore and be attending 35 different schools  in 19 different states. It will be hard saying goodbye to the one of a kind class of 2016; they were a special class, with a special bond that even if the proper channels weren't taken, came out of every situation stronger and more united and that bond with remain as most go their own way.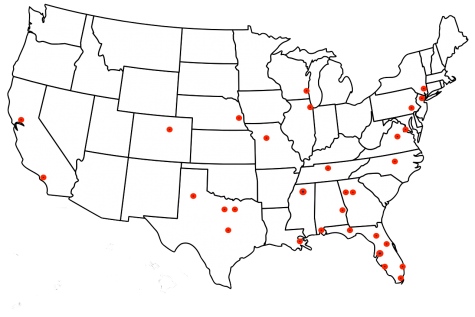 Junior Olivia Stevens shared, "The Class of 2016 is the first grade that made every other grade feel included and the thing I'll miss the most is all the close friends I have that are seniors….but it's okay I'm going to visit them like every weekend."
Senior who is the furthest from Tampa: Patricia Sandoval//University of California Davis
Seniors who are the closest to Tampa: Melissa Alvarado, Larissa Simon//University of Tampa
Seniors who are the furthest North: Olivia Kirkpatrick// New York University, Sajani Mantri//Fordham University
Seniors who are the furthest South: Sara Chowdari, Amelia Llerena, and Maya Williams//University of Miami